Trumps slams 'disgraceful' and 'fake' subpoena from Gloria Allred, ex-'Apprentice' contestant
President Donald Trump again slammed "fake news" Monday, this time denouncing sexual assault allegations made against him after a former contestant from "The Apprentice" filed a subpoena against the Trump campaign.
Speaking at a press conference in the White House Rose Garden, Trump called the reported subpoena "disgraceful" and "totally fake news," before adding: "That happens in the world of politics."
TRUMP URGES DISMISSAL OF 'APPRENTIE' CONTESTANT'S LAWSUIT
The Trump campaign was subpoenaed in March by former "Apprentice" contestant Summer Zervos, who accused Trump of aggressively kissing and grabbing her when she met with him to discuss a possible job at the Trump Organization after her run on his hit television show.
With the help of women's rights attorney Gloria Allred, the subpoena — which includes sexual assault allegations against Trump from at least 10 women — wasn't entered into court until September, Buzzfeed News reported.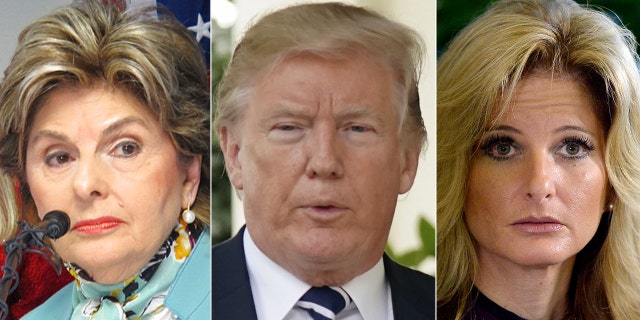 The subpoena was reportedly filed for documents seeking "any woman alleging that Donald J. Trump touched her inappropriately."
LEAKED TAPE CAPTURES TRUMP IN CRUDE RANT WITH TV HOST
Allegations against the president arose in October 2016 after a 2005 recording of Trump bragging about kissing and groping women was made public. "All I can say is it's totally fake news — just fake. It's fake, it's made-up stuff. And it's disgraceful what happens," Trump told reporters Monday about the new allegations.
Questions about Trump's past were brought up after Hollywood was rocked by sexual assault accusations against disgraced mega-producer Harvey Weinstein.
The Associated Press contributed to this report.