Trumps host Australian prime minister for rare state dinner in Rose Garden
President Trump, Australian Prime Minister Scott Morrison and guests dined on Dover sole and summer squash while U.S. military bands filled the air with music Friday night as the Rose Garden hosted the second state dinner of the Trump White House.
"The first lady and I are honored to welcome you and Jennifer to the White House, and we look forward to hosting you for a state dinner tonight in the Rose Garden," the president told Morrison during a pomp-filled military arrival ceremony Friday. "It will be quite something."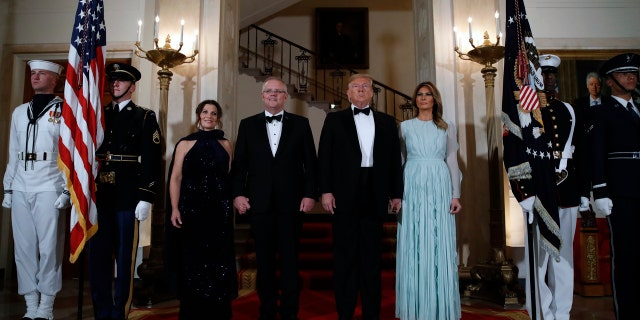 The president and first lady Melania Trump greeted Morrison and his wife, Jenny, with handshakes and kisses on the Pennsylvania Avenue side of the mansion Friday evening. Meanwhile, the worlds of politics, media and even sports collided as a stream of administration members from both countries, aides, lawmakers and even golfer Greg Norman headed outside for the open-air dinner.
Music wafted across the South Lawn below an illuminated White House as guests descended the outside staircases to join the garden party. Musical groups from the U.S. military provided entertainment, with one band playing from the roof of the Colonnade.
FIRST LADY MELANIA TRUMP UNVEILS WHITE HOUSE RESTORATION PROJECTS BEFORE STATE VISIT
Dover sole with parsley crisps
The first lady wore an aqua silk chiffon gown by J. Mendel with inserted pleats and bias cut waves, the White House said. Morrison's wife wore a midnight blue sequined halter-style gown.
In remarks before the three-course meal was served, Trump raised his glass to a "very special people and a very, very special country." He had said earlier Friday that he would love to attend the 2019 President's Cup golf tournament in Australia in December if his schedule will allow it.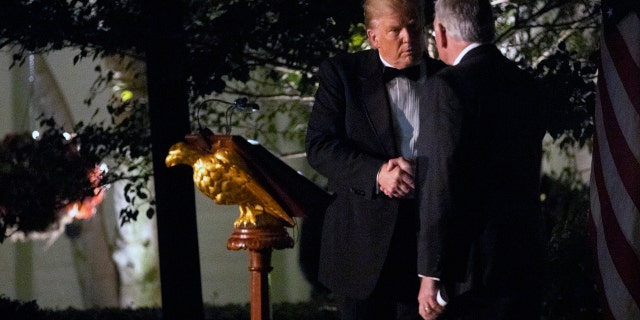 In return, Morrison praised the first lady's "quiet grace" and toasted to 100 years of "mateship" between the U.S. and Australia.
Notables among the more than 170 invited guests were Fox Business Network hosts Maria Bartiromo and Lou Dobbs, Las Vegas casino mogul and Trump supporter Phil Ruffin, former Secretary of State Henry Kissinger, Republican Florida Gov. Ron DeSantis, the Rev. Franklin Graham, Supreme Court Justice Clarence Thomas, Democratic U.S. Sen. Joe Manchin of West Virginia and Attorney General William Barr.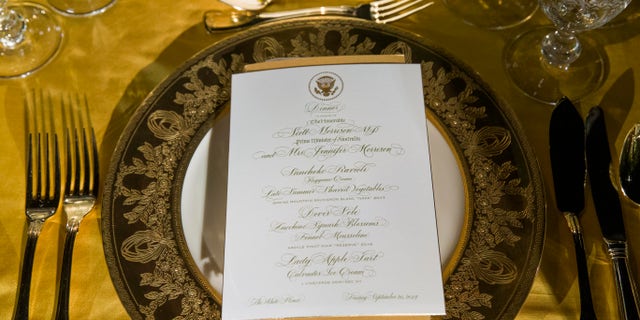 Lachlan Murdoch, executive chairman and CEO of FOX Corp., was also in attendance.
The guests were seated at a mix of round and rectangular tables draped in alternating yellow and green tablecloths in tribute to Australia's national colors. Dinner centerpieces were made using more than 2,500 yellow California roses and Australia's national flower, the golden wattle, while the garden itself was decorated with white and yellow roses. Temporary flooring was laid over the grass.
Friday's dinner is just the second state dinner of Trump's administration (the first was held for French President Emmanuel Macron last year) and the first in more than a year. By comparison, he's had state visits to Japan and Britain this year, in addition to other such visits in his first two years in office, including one to Beijing, billed by China as a "state visit, plus."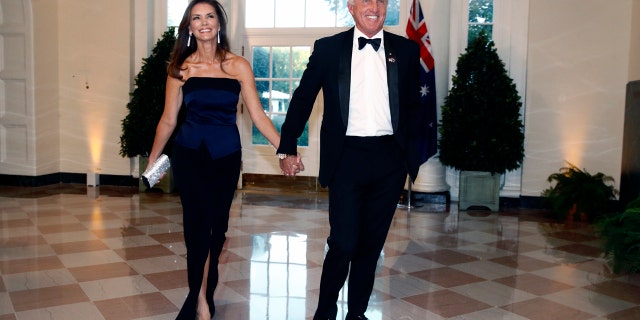 "There are many larger, I suppose, more powerful friends that America has, but they know that they do not have a more sure and steadfast friend than Australia," Morrison told reporters who accompanied him to Washington. "And so I'm looking forward to spending time with our American friends here over the next few days and celebrating our tremendous relationship."
Trump and Morrison will spend part of Sunday together when they tour a new, Australian-owned manufacturing facility in Ohio.
CLICK HERE TO GET THE FOX NEWS APP
Beyond socializing, the leaders held talks Friday on military, intelligence and economic issues, focusing on the Indo-Pacific region.
Australia was last a recipient of a U.S. state visit in 2006 when President George W. Bush feted Prime Minister John Howard.
The Associated Press contributed to this report.