Trump tensions with party causing headaches down ballot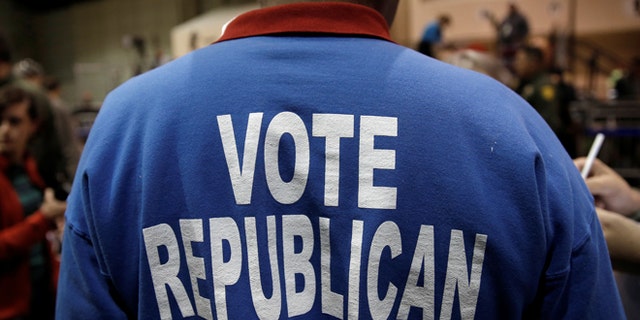 Ardent Donald Trump supporters are expected to turn out Election Day in large numbers, but their support for GOP congressional candidates -- particularly those distancing themselves from the party's presidential nominee -- appears increasingly uncertain.
Dozens of House and Senate candidates bolted from Trump after the recent release of a 2005 audiotape in which he brags about his celebrity status allowing him to make uninvited advances on women.
Rep. Joe Heck, the Republican nominee for an open Senate seat in Nevada, immediately felt the backlash from Republican voters, getting booed at a party unity rally when calling for Trump to quit the race. House Speaker Paul Ryan, though not in a tight race, faced similar heckling at a Wisconsin rally from which Trump was dis-invited.
In Pennsylvania, some Trump loyalists are vowing not to vote for incumbent Republican Sen. Pat Toomey -- who is in a close race with Democratic challenger Katie McGinty and has refused to endorse Trump.
"As of right now, I will not vote for McGinty," Trump supporter Steve Johansen told FoxNews.com on Monday. "I am strongly considering leaving that box blank."
Johansen, who founded the online, Pennsylvania-based Trump group MAG -- for "Make America Great" -- says his dissatisfaction with Toomey started long before he abandoned Trump.
"Toomey was looking for the first opportunity to jump off the train," Johansen said. "It's always, 'Reelect Toomey. Reelect Toomey.' When are we going to send a message?"
Indeed, the rift between Trump nation and the Washington establishment seemed to emerge the day Trump announced his candidacy, saying: "I've watched the politicians. … They will never make America great again. They don't even have a chance."
And he has continued the argument -- railing against Democrats and Republicans alike -- through the final weeks of the campaign.
"There is nothing the political establishment will not do -- no lie that they won't tell -- to hold their prestige and power at your expense," Trump said at a rally last week in Florida.
Rhetoric like this raises concerns that his supporters might not be motivated to vote Republican down the ballot, as Democrats fight to win back the Senate -- and hold out hope for a much-less-likely takeover in the House, where Republicans hold a 30-seat majority.
At the same time, Republicans distancing themselves from Trump are trying to keep the peace with swing and undecided voters.
Johansen and others acknowledge the political tightrope GOP incumbents are trying to walk -- support Trump and bear all of his controversial remarks or abandon him and risk losing votes from the most energized faction of the party.
Missouri GOP Sen. Roy Blunt, in a surprisingly close reelection bid, is sticking with Trump, who leads Democratic rival Hillary Clinton there by 8 percentage points, according to the RealClearPolitics' poll average.
And at least a couple candidates who split with the billionaire businessman after the tape controversy have since warmed back up to him, including Sen. Deb Fischer of Nebraska.
"I understand they are trying get votes," Chris Pirritano, another of the estimated 2,000 MAG members, said Tuesday regarding lawmakers trying to determine the appropriate level of support for Trump. "And it's a nice game they have going on. But a lot of us are getting a little fed up. .. I might be throwing away my vote, but I'm strongly considering voting for the independent in the Toomey race."
Asked about his stance on Trump last week, Toomey's office provided this statement: "I have not endorsed Donald Trump and I have repeatedly spoken out against his flawed policies, and his outrageous comments, including his indefensible and appalling comments about women."
He contrasted that against his rival, saying: "Katie McGinty has yet to say a single word against Hillary Clinton's disastrous policies that have endangered our country, her widespread dishonesty, or the corruption of her behavior with the Clinton Foundation."
The extent to which Trump is truly tied to GOP House and Senate candidates remains to be seen.
"Most Republican voters can tell the difference between a viable candidate and one who is not," David Payne, a Republican strategist and partner at Vox Global, said Tuesday. "But they could cast a protest vote or not vote at all. There is some danger here, most notably in the Senate."
Oregon Rep. Greg Walden, who leads the National Republican Congressional Committee, last week told an Omaha TV station that surveys across the country suggest roughly 20-to-25 percent of voters connect GOP congressional candidates to Trump.
"There is not that tight of an attachment," he told ABC affiliate KETV.
Nathan Gonzales, of the Rothenberg & Gonzales Political Report, recently suggested a good bellwether is anti-Trump GOP Rep. John Katko's bid for a second term in upstate New York, where he has led by as many as 15 percentage points.
"If that race completely turns around, everybody should take note," he said.