Trump says he has no plans to fire Interior Secretary Ryan Zinke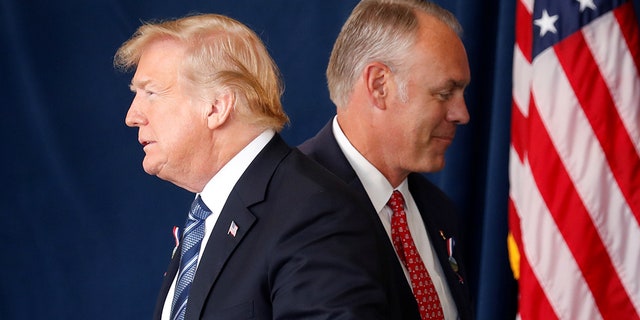 On the heels of Attorney General Jeff Sessions' resignation, President Trump put to rest rumors Friday that he planned to fire Interior Secretary Ryan Zinke.
Speaking to a crowd of reporters ahead of his trip to Paris, Trump was asked point blank if he would fire Zinke.
"No, I'm going to look into any complaints," he said.
The informal announcement by Trump comes just two days after he told reporters he would reach some resolution on Zinke in about a week.
JEFF SESSIONS RESIGNS AS ATTORNEY GENERAL, AT TRUMP'S 'REQUEST'
The former Montana congressman has come under fire for his alleged misconduct as interior secretary, centering on a real estate deal in his home state involving a foundation he created and the chairman of an energy service company that does business with Interior.
Zinke, 57, also raised ethical concerns when he blocked two Connecticut tribes from opening a casino and redrew boundaries to shrink a Utah national monument.
A spokesperson with the department told The Associated Press in an email that Zinke has denied any plans to leave.
INTERIOR DEPARTMENT WATCHDOG INVESTIGATING REAL ESTATE DEAL INVOLVING RYAN ZINKE
While Zinke appears to be in the clear for now, the dust has yet to settle from the most recent shakeup for the Trump administration; Sessions resigned as attorney general on Wednesday.
Sessions, once a trusted Trump adviser, fell out with the president over his recusal from the inquiry into Russian meddling in the 2016 elections.
Fox News' Alex Pappas and The Associated Press contributed to this report.