Trump moves in on Pennsylvania Avenue – with luxury hotel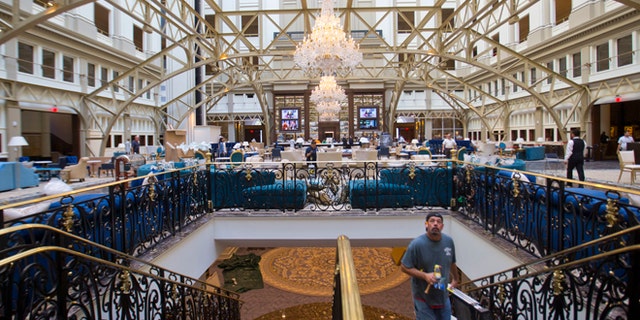 NEWYou can now listen to Fox News articles!
Donald Trump is closer than ever, literally, to the White House, as his luxury hotel unofficially opened Monday along Pennsylvania Avenue – a project he pointed to as an example of the kind of "on-budget" and "ahead-of-schedule" results he'd deliver as president.
"It's really going to be a great tribute to our country," the Republican presidential nominee told "Fox & Friends."
The Trump International Hotel, Washington, D.C., had what's known as a "soft opening" on Monday, with a grand opening expected next month. The project transformed the iconic Old Post Office building, five blocks from the White House, into part of Trump's empire of luxury accommodations.
"The hotel is magnificent. There has never been a hotel like this or even close in Washington," Trump said.
A small band of protesters who gathered outside the building Monday thought otherwise.
Code Pink's Medea Benjamin said she and others oppose the roughly $200 million project for multiple reasons -- including that the public will now have more limited access to the Old Post Office Tower, part of the National Park Service.
"It's appalling that this beautiful post office used to be a place of public domain and is now in the hands of Donald Trump and the one percent," Benjamin said. "In a city full of immigrants, $700 a night for a room?"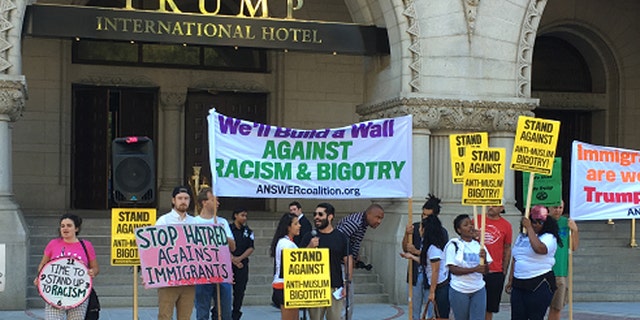 Rooms at the hotel are starting at $895 a night.
The Trump Organization, which owns and operates luxury hotels and resorts around the world, won a 60-year lease from the federal government to put the hotel in the 117-year-old building.
But the project has faced some turmoil since the billionaire businessman launched his presidential campaign.
After breaking ground, two highly regarded chefs backed out of plans to open restaurants in the hotel because of Trump's comments about Mexican immigrants, resulting in lawsuits.
"It's his right to do it, but I don't support it. Trump is always in it for the money, no matter who gets hurt," said Ralph Ornelas, a visitor from Selma, Calif., observing the scene outside the hotel on Monday.
Trump won praise from others.
"What Trump has done with this hotel is beautiful. He's left the façade exactly as it was," said Jim McDonald, of the group New Yorkers for Immigration Control and Enforcement, who expected to be joined by about a half-dozen other group members later in the day.
Trump tweeted a photo of himself with the hotel staff but did not make a public appearance.
Speaking with Fox News, he touted his daughter Ivanka's role in the project – and pointed to the hotel as a model.
"I'd like the country to go ahead of schedule and on budget or under budget," he told Fox News.
FoxNews.com's Joseph Weber and The Associated Press contributed to this report.