Trump lambasts Dems on sanctuary cities, saying their 'priority is to protect criminals'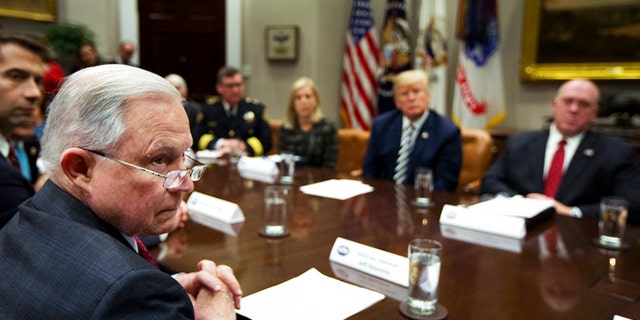 President Donald Trump on Tuesday tore into Democrats who back so-called "sanctuary cities," saying at a White House roundtable on the subject that their priority is to protect criminals, not law-abiding Americans.
"Democrats' priority is to protect criminals, not to do what is right for our country," Trump said at the law enforcement roundtable.
He accused Democrats of blocking Republican efforts to end "catch-and-release" and other measures sanctuary cities use in refusing to cooperate with immigration enforcement officers.
During the event, Trump was one of a number of participants to praise Attorney General Jeff Sessions for the Department of Justice's work in securing the border and pushing to enforce federal immigration law. Sessions announced this month that Justice is suing the state of California over sanctuary policies that hinder federal immigration authorities.
"Jeff, I will say the level of strength of the Justice Department on this issue and on other border issues has been fantastic, so we appreciate it very much," Trump said.
Trump has repeatedly lambasted Sessions on a number of issues, particularly over his decision to recuse himself from investigations relating to the Trump campaign and Russian meddling. Trump has said he would not have hired Sessions if he knew what he was going to do.
But Sessions and Trump are on the same page when it comes to immigration and border enforcement, and both men have repeatedly used tough language on the topic of sanctuary cities.
Sessions returned the praise, saying Trump had led on the issue "from Day 1" and describing sanctuary policies as a "knife in the heart" in the relations between state and federal officials.
"They are irrational, they make no sense, they are radical really at their fundamental basis," he said of such policies. "It's a radical policy that they are executing."
"At bottom these policies of these sanctuary jurisdictions call for open borders; it is an affront to the fundamental federal immigration law in America," he said.
Democrats have claimed that such policies prevent the splitting up of families and encourage those in the country illegally, but otherwise following the law, to work with authorities to stop criminals.
PELOSI SLAMS CALIFORNIA ICE RAID AS 'UNJUST AND CRUEL'
House Minority Leader Nancy Pelosi, D-Calif., has accused the Trump administration of terrorizing "innocent immigrant families" with "unjust and cruel" raids in California. She also took aim at the lawsuit from the DOJ.
"The people of California will not be bowed by the Trump administration's brazen aggression and intimidation tactics," Pelosi said. "Californians will continue to proudly keep our doors open to the immigrants who make America more American. We will fight this sham lawsuit and will fight all cowardly attacks on our immigrant communities."
But at Tuesday's roundtable, there was little diversity of opinion on the subject, with well-known pro-immigration enforcement voices slamming liberal enforcement policies.
Sen. Tom Cotton, R-Ark., described sanctuary jurisdictions as "outlaw cities" while Rep. Martha McSally , R-Ariz., warned that if California continued its policies, "we might need to build a wall between California and Arizona as well."