Trump calls John James 'future star' of GOP after Michigan Senate primary win
NEWYou can now listen to Fox News articles!
President Trump labeled Michigan Republican Senate candidate John James a "future STAR" of the GOP after the conservative black Iraq War veteran won his party's primary Tuesday.
"Congratulations to a future STAR of the Republican Party, future Senator John James. A big and bold victory tonight in the Great State of Michigan - the first of many. November can't come fast enough!" Trump tweeted.
James, 37, defeated Sandy Pensler in the GOP primary Tuesday. The Michigan businessman and political newcomer and Pensler exchanged barbs over business records, conservative credentials and the president.
Trump endorsed James last week. James also boasted support from Michigan rocker Kid Rock and Rob O'Neill, the retired Navy SEAL who killed Al Qaeda leader Osama Bin Laden.
Early in the primary campaign, Pensler, who loaned his campaign $5 million, had a financial advantage over James, who gave only $50,000 to his campaign. James ultimately raised $3.9 million by the end of June, with an additional $1.3 million in cash by August.
James is Michigan's first black GOP nominee for a major statewide office in more than three decades, but he says he wants to be judged based on his character.
James graduated from the United States Military Academy at West Point in 2004, according to his campaign website bio, and became a Ranger-qualified aviation officer. He served in Operation Iraqi Freedom, where he earned a Combat Action Badge and two Air Medals while logging more than 700 hours leading two Apache platoons.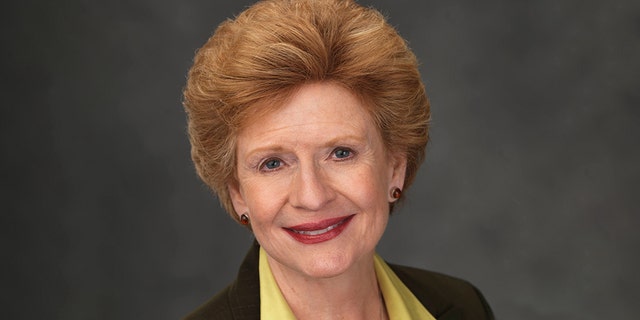 He returned to Michigan in 2012 and currently serves as president of the family business, James Group International. James has taken the company from $35 million to $137 million in revenue, the site states, and has created 100 jobs in Michigan and elsewhere. He is married with two young children.
James will compete against incumbent Democratic Sen. Debbie Stabenow in November, who had no primary challenger. Stabenow is seeking a fourth Senate term and has easily fended off past challengers.
Stabenow was elected to the Senate in 2000, and is a member of the Senate Agriculture Committee, Senate Energy, Finance and Budget Committees. According to her website, she authored a bipartisan Farm Bill that is strengthening Michigan agriculture and making unprecedented investments in protecting the Great Lakes.
Though seen as an uphill battle, Republicans are optimistic that James could potentially turn the blue Senate seat red, after Trump's victory in Michigan in the 2016 race.
"Washington has enough career politicians," James said in a news release after his victory. "We need people who have experience getting results. You aren't going to get results from a 43-year career politician. Debbie Stabenow better get ready for the fight of her political life."
The Associated Press contributed to this report.