Trump Bible heads to museum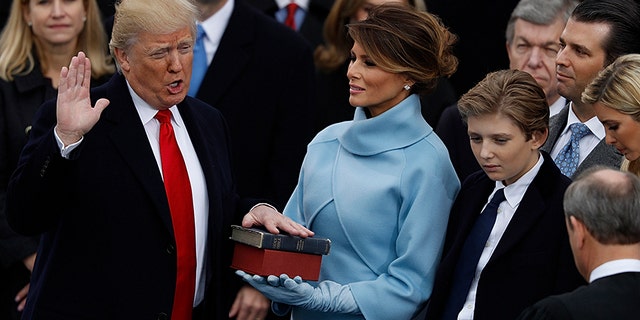 The Museum of the Bible has acquired one of the two Bibles President Trump used to take the oath of office in January 2017, joining other versions used by American presidents at the privately-funded Washington, D.C museum.
Trump brought out his childhood Bible, which was given to him by his mother, Mary Anne, several times during the 2016 campaign. His Revised Standard Version (RSV) Bible was then used for the inauguration ceremony on top of the same book President Abraham Lincoln used in 1861.
"My mother gave me this Bible, this very Bible, many years ago," Trump said in a campaign video from Trump Tower. "In fact it's her writing right here. She wrote the name and my address, and it's just very special to me."
The future 45th president of the United States carried the Bible – which has the Trump name etched on the cover – to Sunday school classes at First Presbyterian Church in Queens, New York. His pastor and teachers also inscribed his Good Book when he graduated from Sunday school in 1955.
"We are honored to add this piece of our nation's history to our growing exhibit of presidential Bibles," Museum of the Bible President Cary Summers said in a statement. "It is our hope that guests will be able to learn not only about each president's unique Bible, but also about the influence this book has had on government and elected officials around the world."
The Museum of the Bible placed the Trump Bible on display in the "Bible in the World" exhibit on the second floor, alongside the Bibles of presidents Harry S. Truman, Dwight D. Eisenhower, George H.W. Bush, and George W. Bush.
Truman, like Trump, used his personal Bible when he was sworn in as President of the United States in 1945. Eisenhower and Bush had their Bibles opened to a Scripture during their oath. Eisenhower's was opened to Psalm 33:12 during the inauguration in 1953, and Bush had has family Bible opened to the Beatitudes, Matthew 5:3-12 during his ceremony in 1989. His son used the same one when he became president in 2001.
In addition to the presidential Bible collection, the museum features 22 other exhibits on the Bible's impact on different subjects, from education and human rights to fashion and literature.
The Museum of the Bible, located on the Washington Mall, opened its doors to the public in November with thousands of artifacts dedicated solely to the Judeo-Christian Holy Book.