Trump backers wave 'MAGA' banners at Bernie Sanders event; some removed then allowed to return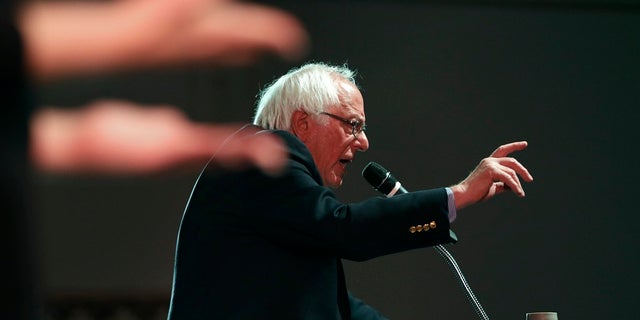 A small group of Trump supporters holding "Make America Great Again" banners at a Democratic Party rally in Nevada were briefly removed from the outdoor event Thursday after Sen. Bernie Sanders pointed them out five minutes after taking the stage.
"Really? Do you really want to give $1 trillion in tax breaks to the 1 percent?" Sanders asked the group after they unfurled the banners on the second floor of a parking garage near the stage at the University of Nevada, Reno, campus. "Is that what you want?"
Within minutes, Democratic operatives removed the group. The event's emcee, Will Adler, told the Reno-Gazette Journal that some university officials asked him to usher away the Trump supporters because they were not in a "free speech zone."
Campus police quickly reminded him that the event hosted by Nevada Democrats was being held at a public university. Some of the ousted Trump supporters came back without the banners.
Sanders moved on with his speech where he called for tuition-free public universities and colleges and appealed to voters to support freshman U.S. Rep. Jacky Rosen, who is trying to unseat U.S. Sen. Dean Heller, a Republican.
Trump and former President Barack Obama recently visited the state to stump for candidates ahead of the midterm elections.