Trump announces 'regulatory czar' Neomi Rao as nominee to take Kavanaugh's seat on D.C. Circuit Court of Appeals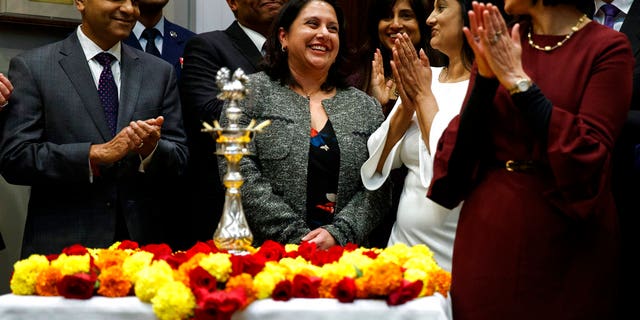 President Trump announced Tuesday he will nominate Neomi Rao, who has spearheaded his administration's effort to cut down and reform federal regulations as head of the Office of Information and Regulatory Affairs, to take the D.C. Circuit Court of Appeals seat vacated by new Supreme Court Justice Brett Kavanaugh.
Trump, speaking at a White House event marking Diwali, the Hindu festival of lights, indicated that a formal announcement is slated for Wednesday, but said that tipping his hand early "gives me a big story."
"We were going to announce that tomorrow and I said you know, here we are Neomi -- we're never gonna do better than this. I thought it was an appropriate place," Trump said, as attendees at the ceremony clapped and Rao smiled.
"I won't say today that I just nominated Neomi to be on the D.C. Circuit Court of Appeals, the seat of Justice Brett Kavanaugh," Trump continued. "She's going to be fantastic -- great person."
The D.C. Circuit Court of Appeals is considered the second most important U.S. federal court, after the U.S. Supreme Court, because it has jurisdiction over disputes concerning federal regulations and other actions taken by major government agencies. During his time on the D.C. Circuit, Kavanaugh ruled on major issues that found their way to the Supreme Court, including the constitutionality of ObamaCare's individual mandate and citywide gun bans that ran afoul of the Second Amendment.
LIBERAL LAW PROFS LAUNCH CAMPAIGN TO PACK SUPREME COURT
Rao, like Kavanaugh when he was first nominated to the key appellate court, has never been a judge, and likely does not have any paper trail that would pose an obstacle to her confirmation by the Senate, which Republicans will continue to control in January. (Only a majority vote is needed to confirm appellate judges, because Senate Democrats eliminated the filibuster for nominees to clear the way for several appointees by Barack Obama to the bench that Republicans vowed to block.)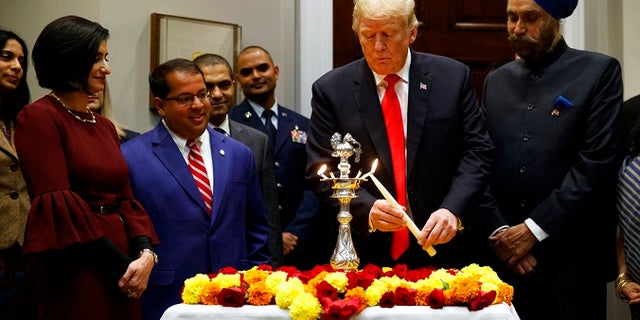 The Office of Information and Regulatory Affairs, which Rao leads, is part of the Office of Management and Budget within the Executive Branch. It has the statutory authority to review federal regulations established by an array of agencies, as well as oversight over information privacy and government data collection.
Case Western University School of Law professor and Washington Post commentator Jonathan H. Adler wrote when Rao was nominated to lead the agency that "Trump's selection of Rao suggests the administration is serious about regulatory reform, not merely reducing high-profile regulatory burdens." He called Rao's job "the most important position which you may not have heard of before."
"The selection of a well-respected administrative law expert further suggests the administration recognizes the need to be attentive to legal constraints on administrative action and that meaningful reforms require more than issuing a few executive orders," Adler wrote, calling her Trump's "regulatory czar."
KAVANAUGH MAKES LOW-KEY SUPREME COURT DEBUT AFTER UNPRECEDENTED CONFIRMATION BATTLE
He concluded: "Rao is a superlative pick."
But others were skeptical, saying Rao has led a reckless regulatory rollback that has endangered the environment. The Trump administration has repealed or tried to repeal dozens of Obama-era environmental regulations and policies, including rules restricting methane emissions on public lands.
The White House has also taken criticism for opening more coastal areas to offshore oil and gas drilling, and withdrawing from the contentious multilateral Paris climate agreement.
"Rao has never seen a regulation she didn't hate, and as a judge would dismantle 40 years of environmental and social progress," Brett Hartl, government affairs director at the nonprofit Center for Biological Diversity, said in a statement provided to Fox News. "Her confirmation would be the most damaging and regressive yet by Trump after Kavanaugh and [Supreme Court Associate Justice Neil] Gorsuch."
Republicans have long complained that Congress often delegates excessive authority to mostly unaccountable executive branch agencies. During his confirmation hearings earlier this year, Kavanaugh specifically touched on the Obama-era Consumer Financial Protection Bureau (CFPB), saying that even if the agency was a good policy idea, its creation was an improper "departure from historical practice" because it employed a single director, rather than a committee, who could only be removed by the president for cause.
Kavanaugh wrote an opinion for a three-judge panel striking down the CFPB's structure as unconstitutional in 2016, but was ultimately reversed in part by a 7-3 vote in an unusual en banc review by other justices on the D.C. Circuit Court of Appeals. The en banc review found the CFPB's structure to be constitutional, but agreed with Kavanaugh that one of the agency's major interpretive decisions had improperly violated due process requirements.
The Trump administration later stripped the CFPB of some of its enforcement capabilities.
Rao is on leave as a professor at the Antonin Scalia Law School at George Mason University, which is unusual in legal academia for having a larger percentage of conservative-leaning faculty members than most other major law schools. The school, formerly known simply as the George Mason University School of Law, changed its name after Scalia's death, following major gifts from an anonymous donor and the Charles Koch Foundation that insisted on the name change.
She also served in President George W. Bush's administration and worked for the Senate Judiciary Committee.
Asked to say some words by the president, the seemingly flustered soon-to-be-nominee said she was humbled by the honor.
"Thank you very much, Mr. President, for the confidence you've shown in me," Rao said. "I greatly appreciate it."