Trump administration ends 2017 confronting Russia after year of collusion accusations
The year that began with the narrative of Trump-Russia collusion is ending with an unexpected plot twist – the Trump administration is confronting and cracking down on Russia on several fronts, a development drawing praise from some of the president's biggest critics.
Allegations that Trump associates helped Moscow meddle in the 2016 campaign haven't gone away. But the administration still has demonstrated a willingness to challenge Russia in ways that even former President Barack Obama avoided.
Significantly, the administration has approved a plan to provide lethal weapons to Ukraine.
The new arms include American-made Javelin anti-tank missiles that Ukraine wants to boost defenses against Russian-backed separatists in eastern Ukraine. Previously, the U.S. provided equipment and training, letting private companies sell some small arms like rifles. Obama had considered sending lethal weapons to Ukraine – but left office without doing so.
Trump's decision comes after the State Department and Pentagon signed off earlier this year.
State Department spokeswoman Heather Nauert issued a brief statement on the development stressing that the assistance is "entirely defensive in nature."
Meanwhile, the administration last week also imposed sanctions on five Russians under the Magnitsky Act, passed by Congress in 2012 in response to the death of Russian whistleblower Sergei Magnitsky.
The additions include Ramzan Kadyrov, the head of Chechnya. The Treasury Department said Kadyrov oversaw "disappearances and extrajudicial killings" and is believed to have ordered the killing of one of his political rivals. Kadyrov, an ally of Russian President Vladimir Putin, was widely believed to have already been on a classified list of U.S. sanctions targets.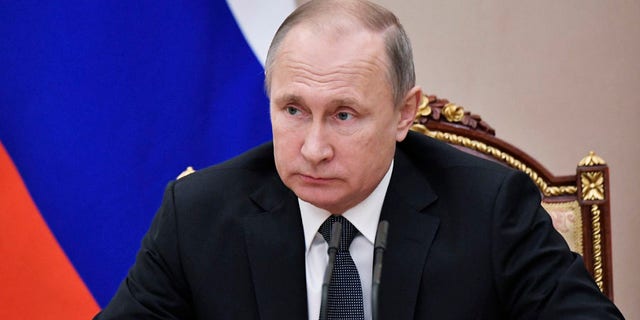 Both administration decisions won praise from lawmakers often critical of Trump.
Sen. Ben Cardin, D-Md., ranking member of the Senate Foreign Relations Committee, told "Fox News Sunday" that he supports the decision on weapons for Ukraine.
"It's a clear message to Russia that we will not allow them to continue to compromise the sovereignty of Ukraine. Russia will continue to push as far as they can. It was important for the United States to tell Russia that we will support Ukraine's ability to defend itself," Cardin said.
Sen. John McCain, R-Ariz., chairman of the Armed Services Committee, issued a statement calling the move a "significant step in the right direction" that is "years overdue."
Sen. Cory Booker, D-N.J., also called the sanctions decision a "good step in the right direction," in an interview with The Daily Beast.
There still may be a disconnect between Trump's public tone toward Russia and the actions of his administration.
Speaking to reporters while visiting Vietnam in November, Trump said "it's very important to get along with Russia" and other countries. Asked about the meddling allegations, Trump said he thinks Putin truly feels he did not meddle in the U.S. election – and suggested it's time to look forward.
"What he believes is what he believes. What I believe is we have to get to work," Trump said. "I feel that having Russia in a friendly posture, as opposed to always fighting with them, is an asset to the world and an asset to our country, not a liability."
TRUMP UNVEILS NATIONAL SECURITY STRATEGY
Trump and Putin continue to communicate regarding common challenges, including terrorism. Earlier this month, Putin personally thanked Trump for a CIA tip that helped thwart an attack in St. Petersburg.
Russia, meanwhile, railed against the recent Ukraine decision, with a top diplomatic official telling the state RIA Novosti news agency that the U.S. move "raises the danger of derailing the process of peaceful settlement in Ukraine."
While Trump did not mention election meddling during his public address last week outlining his administration's new National Security Strategy, the document itself holds little back.
It accuses "actors such as Russia" of using "information tools in an attempt to undermine the legitimacy of democracies."
The strategy also accuses China and Russia of challenging "American power, influence, and interests, attempting to erode American security and prosperity," while looking to "make economies less free and less fair, to grow their militaries, and to control information and data to repress their societies and expand their influence."
Signs of an increasingly combative situation with Russia began emerging earlier this year. In late August, the administration ordered Moscow to close posts in San Francisco, Washington, D.C., and New York City.
The decision was in retaliation for Putin kicking out more than 700 U.S. diplomats – after Trump, reluctantly, signed a sanctions law passed by Congress.
The Associated Press contributed to this report.