Treasury defends removing paper at odds with Mnuchin's tax analysis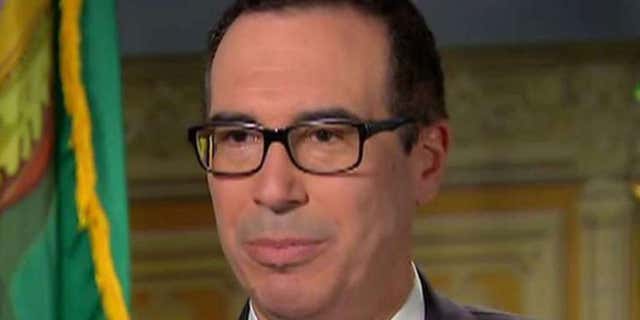 NEWYou can now listen to Fox News articles!
The Treasury Department reportedly yanked an economic report that contradicted Secretary Steven Mnuchin's key selling point on the beneficiaries of a corporate income tax cut.
The Wall Street Journal reported Thursday that the 2012 paper from the Office of Tax Analysis found that "workers pay 18 percent of the corporate tax while owners of capital pay 82 percent." The report's breakdown is in line with the nonpartisan Joint Committee on Taxation and Congressional Budget Office, the Journal reported.
Mnuchin has reportedly been citing other papers putting more of the burden on labor.
Sen. Ron Wyden, D-Ore., told the Journal that "this is yet another example of how the Trump administration is executing a middle-class con job with their tax scam." He went on, "It is disturbing the Treasury Department is burying research proving that trickle-down economics harms American workers."
A Treasury spokeswoman told the paper that the old paper was a staff analysis from the Obama administration.
"It does not represent our thinking and analysis," she said. "Studies show that 70 percent of the tax burden falls on American workers," she added.
Trump and congressional Republicans have unveiled the first major revamp of the nation's tax code in a generation.
The sweeping, nearly $6 trillion tax cut would deeply reduce levies for corporations, simplify everyone's brackets and nearly double the standard deduction used by most Americans.
Trump declares the plan would provide badly needed tax relief for the middle class, but there are too many gaps in the proposal to know how it actually would affect taxpayers.
There are also major questions about how it would be paid for and how much it might add to the soaring $20 trillion national debt.
Senate Minority Leader Chuck Schumer, D-N.Y., says Trump's plan offers only "crumbs" to the middle class, while top-bracket earners making more than a half-million dollars a year would reap a windfall.
Schumer also blasted the plan for actually increasing the bottom tax rate from 10 percent to 12 percent, calling it a "punch to the gut of working Americans."
The Associated Press contributed to this report.