Toomey Dismisses Tightening Polls in Pennsylvania Senate Race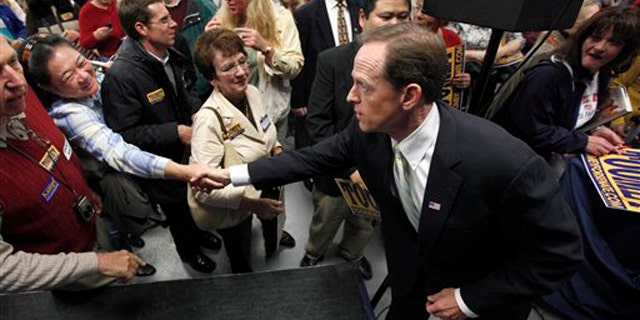 Pennsylvania Senate candidate Pat Toomey, among several Republican nominees who have watched their lead narrow as Election Day approaches, said Sunday that he's not concerned about his opponent's gains and confident that the "tremendous enthusiasm" of his supporters will give him the win.
Toomey, in an interview with "Fox News Sunday," said the Pennsylvania seat is a keystone in his party's strategy for seizing the majority in the Senate, but claimed the GOP is "likely" to gain the 10 seats necessary to do so -- with his help.
"I never expected this to be anything but a close and competitive race," Toomey said. "It's close now, but I feel great about where we are. ... I think the energy and the momentum's on our side."
The polls may give Republicans reason for pause. Toomey's lead has closed from as much as 10 points to 3 points in the most recent poll from the Allentown Morning Call. Democratic Rep. Joe Sestak has taken the lead, narrowly, in at least two recent surveys.
The state of the race has caught the attention of GOP strategists banking on a Toomey win. Though many analysts think the party stands a far better shot at winning a majority in the House than the Senate, Pennsylvania is a virtual must-win for the party to have a shot at a full congressional majority.
Sestak, trying to build on his momentum, urged voters during a rally Saturday at Penn State University to "fight for change" as he courted college students. Sestak said he was the better choice to help create jobs and tried to paint Toomey as out-of-touch with middle-class Pennsylvanians in part because of his Wall Street background. His campaign also boasted of an endorsement from The Philadelphia Inquirer, which was to be published in Sunday's editions.
Toomey, though, said Sestak is "left of" House Speaker Nancy Pelosi and accused him of being "outside of the mainstream of Pennsylvania."
Toomey also clarified that a video clip of him calling for the elimination of corporate taxes should not be taken literally.
"It was never a serious policy proposal," Toomey said. He said the U.S. should lower its federal corporate tax rate from 35 percent to 25 percent to make the country more competitive.
The Associated Press contributed to this report.