Secretary of State Rex Tillerson said Saturday during his visit to China that the U.S. is "probing" North Korea for talks and the two countries have communications with Pyongyang.
Tillerson said the U.S. has contacted the hermit kingdom to see if it was interested in talks and the two countries have "lines of communications to Pyongyang," Fox News has confirmed.
"We are probing, so stay tuned," Tillerson told reporters in China. When asked how the two countries "probed" Tillerson said they would ask directly.
"We ask: Would you like to talk? We have lines of communication open to Pyongyang. We're not in a dark situation, a black out. We have a couple of three channels open to Pyongyang. We can talk to them, we do talk to them," Tillerson said.
Tillerson told reporters that the U.S. government and North Korean government have "direct communication" with one another over its "nuclear and missile tests."
When reporters asked if the U.S. worked with China to communicate with North Korea, Tillerson said the U.S. has direct access.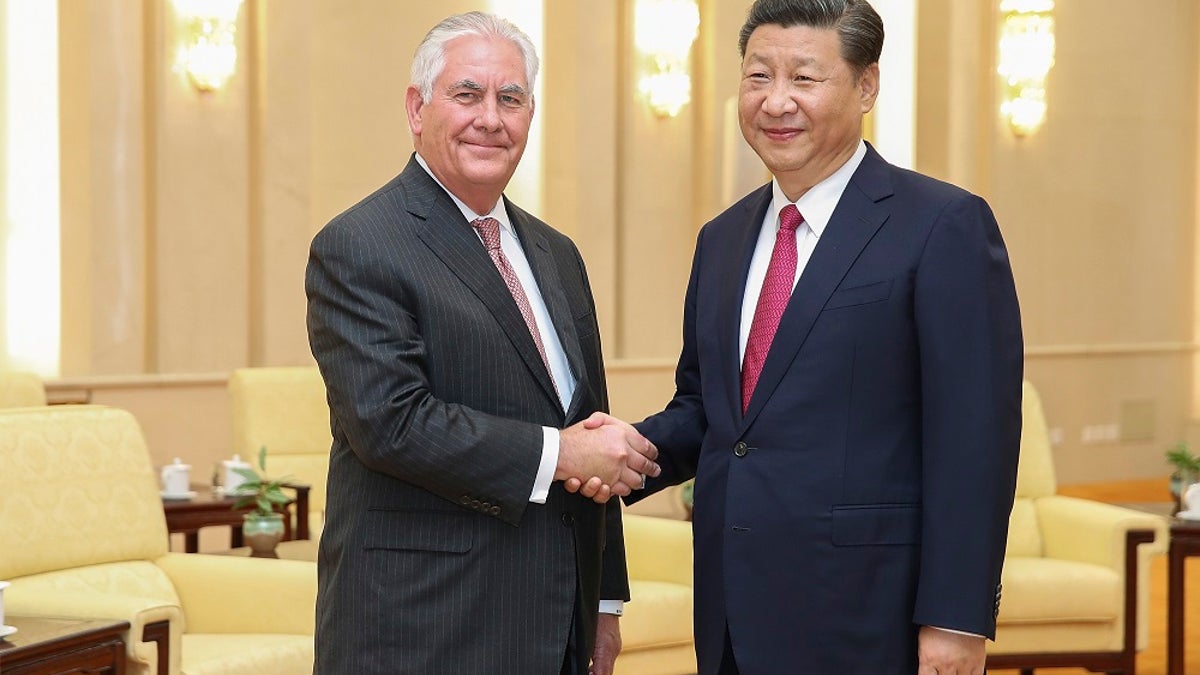 "Directly, through our own channels," Tillerson said.
Tillerson did not go into detail about what type of communications the U.S. has with Pyongyang and if the isolated country has responded.
Tillerson called the tensions between U.S. and North Korea and the threats President Trump and Kim Jong Un have traded the past few days "a bit overheated right now," according to The New York Times.
"If North Korea would stop firing its missiles, that would calm things down a lot," he was quoted as saying.
NEW US SANCTIONS HIT 8 NORTH KOREAN BANKS, 26 BANK WORKERS
Earlier Saturday, Tillerson met with Chinese President Xi Jinping and other officials to discuss trade, North Korea and preparations for President Trump's visit to China in November.
Tillerson is making his second visit as secretary of state to the world's No. 2 economy and chief American rival for influence in Asia, and increasingly, the world. Along with Xi and Senior Foreign Policy Adviser Yang Jiechi, he met with Foreign Minister Wang Yi, who told Tillerson that China-U.S. relations "overall have a positive momentum and have arrived at an important opportunity to progress further."
Neither Tillerson nor the Chinese officials mentioned North Korea in opening remarks made in the presence of journalists.
TILLERSON IN CHINA TO TALK ABOUT NORTH KOREA, TRADE
Ties between Beijing and Washington are considered more crucial than ever with the standoff over Pyongyang's nuclear weapons and ballistic missiles entering a new, more dangerous phase as its leader, Kim Jong Un, and Trump exchange personal insults and threats of war with no sign of a diplomatic solution.
Last Thursday, Trump signed an executive order targeting North Korea's trading partners, calling it a "powerful" new tool aimed at isolation and de-nuclearizing the regime. The sanctions would punish eight North Korean banks and 26 bank workers living abroad.
The Associated Press contributed to this report.