Texas Sen. Ted Cruz Releases Canadian Birth Certificate But Insists He's As American As They Come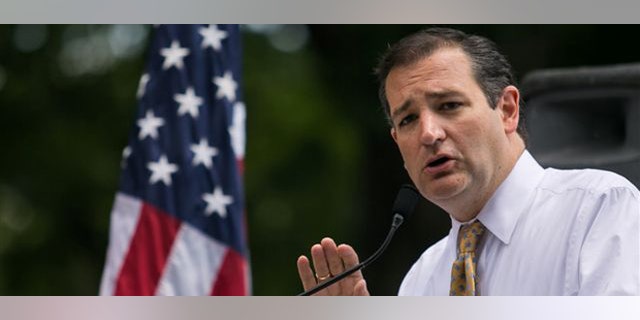 On the heels of a renewed debate over whether his Canadian birth disqualifies him from becoming U.S. president, rookie Sen. Ted Cruz released his birth certificate.
The Texas Republican's birth certificate, according to the Dallas Morning News, which obtained an exclusive copy of the document, lists his birthplace as Calgary, Canada and names Rafael Cruz as his father and Eleanor Wilson as his mother.
The elder Cruz was born in Matanzas, Cuba, while the senator's mother was born in Delaware.
The newspaper said that Cruz claimed his mother's American citizenship automatically made him a U.S. citizen right from birth.
U.S. law requires that someone born outside the United States have at least one parent who is a U.S. citizen and has lived in the United States for no less than 10 years, according the newspaper.
The U.S. Constitution requires that presidents be natural-born citizens. Many legal experts say that the term "natural-born citizen" covers people like Cruz, who meet the one-parent requirement.
But others dispute it, saying that someone born on foreign soil does not qualify to be president. Cruz, who is a lawyer by training, has maintained he does meet the legal requirement.
Cruz is seen as a potential presidential candidate for 2016. He has made several visits to Iowa, further raising speculation about his 2016 aspirations, and, by extension, rekindling the debate about whether he is eligible to be president because of his Canadian birth.
Earlier this month, real estate mogul Donald Trump reignited the question about Cruz's eligibility during an interview with ABC News. Trump, who raised questions about Hawaii-born President Obama's eligibility, expressed doubt about Cruz's legal eligibilty to be American president, noting that the senator was born in Canada.
"If he was born in Canada, then perhaps not," Trump said when asked if Cruz qualified to be president, given that he was born outside the United States. "That will be ironed out. I don't know the circumstances. If he says he was born in Canada, that's his thing."
Toronto lawyer Stephen Green, former chairman of the Canadian Bar Association's Citizenship and Immigration Section, said that Cruz is a Canadian citizen, until and unless he formally renounces it, according to the Dallas Morning News.
Other legal experts said that Cruz is a citizen of both Canada and the United States.
"That means he could assert the right to vote in Canada or even run for Parliament," the newspaper quoted Green as saying.
"On a lunch break from the U.S. Senate, he could head to the nearby embassy — the one flying a bright red maple leaf flag — pull out his Calgary, Alberta, birth certificate and obtain a passport."
Cruz's camp disputes the notion that he has to renounce Canadian citizenship.
"Senator Cruz became a U.S. citizen at birth, and he never had to go through a naturalization process after birth to become a U.S. citizen," said spokeswoman Catherine Frazier, according to the Dallas Morning News. "To our knowledge, he never had Canadian citizenship, so there is nothing to renounce."
The controversy is not likely to fade anytime soon.
"If you leave when you're 2 minutes old, you're still an American. It's the same in Canada," said Allison Christians, a law professor at McGill University in Montreal who is quoted in the News. "He's a Canadian citizen."
Follow us on twitter.com/foxnewslatino
Like us at facebook.com/foxnewslatino