Texas Gov. Rick Perry makes Iowa visit while considering second presidential run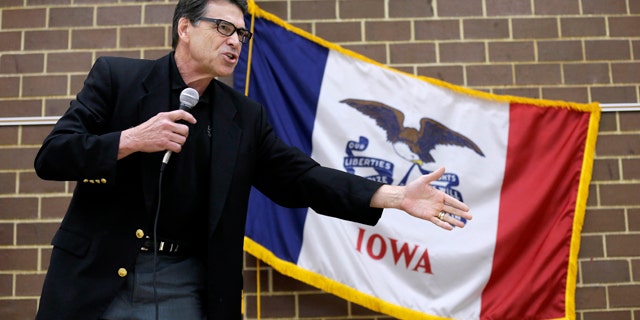 DES MOINES, Iowa – Texas Gov. Rick Perry is visiting Iowa for the fourth time in eight months, hoping for a second chance to win over Republican voters who delivered him a stinging caucus loss when he ran for president two years ago.
Perry, 64, hasn't said if he plans to run again in 2016. But he's clearly considering it, and is meeting Saturday and Sunday with veterans and conservative activists in the northern Iowa communities of Algona and Clear Lake.
"Our nominee normally has done this more than once. I think this goes back to that issue of experience. Experience matters and by and large it helps," Perry said Saturday evening, during a break from greeting the more than 200 people gathered for a dinner at Algona High School. "America is all about giving second chances," he added.
Perry has been raising funds for GOP candidates and seeking advice from political insiders since November. He is signaling that he's committed to the grassroots politicking that Iowa's Republican faithful expect and that many felt he didn't prioritize when he ran two years ago.
Whether Iowa voters give Perry a second chance remains to be seen. GOP activist Julie Clark of Estherville said she thought Perry -- a relatively late entry into the 2012 race -- could make a comeback in the state whose caucus kicks off the presidential primary season. Clark helped organize the Algona event.
"He's a successful governor and a lot of people here liked him when he was running. We're pretty conservative," Clark said of voters in northern Iowa. "We would have supported him to the end."
But Connie Schmett, a longtime Republican party activist from Clive, isn't convinced. Although she likes Perry personally, she said she just can't see herself supporting him in a second bid for president after his ruinous debate performances.
"I love him to death, but I just can't," said Schmett. "You cannot undo that impression. And that's sad."
The crowd Saturday night responded enthusiastically to Perry's roughly 15-minute speech. Perry heaped praise on his fellow GOP governors, especially Iowa Gov. Terry Branstad, and forcefully criticized President Barack Obama's response to the recent flood of unaccompanied child immigrants that has overwhelmed authorities in Texas.
"We know how to secure the border. If the federal government will not do its duty then I will suggest to you that the state of Texas will," said Perry, as the crowd leapt to their feet in applause.
Perry became Texas' governor in 2000 when then-Gov. George W. Bush became president. He has been elected to full four-year terms three times -- becoming the longest-serving governor in Texas history -- but is not seeking re-election next year.
Perry's last presidential campaign began with great promise but quickly faltered. He parachuted into the race relatively late, in August 2011, but swiftly went from being a front-runner to an also-ran because of a series of gaffes and poor debate performances -- most notably his "oops" moment, when he could only list two of the three federal agencies he said he would close if elected president.
Perry aides have said he simply wasn't prepared when he entered the last presidential race, which was already well underway. They blamed his poor debate showings on a busy schedule -- Perry was wrapping up a Texas legislative session -- and pain medication he was taking following recent back surgery.
After finishing fifth in the Iowa caucus and sixth in New Hampshire's primary, Perry quit the race.
"I was disappointed for him. He didn't have as good of a showing as he could have or should have," said Hamilton County GOP chairman Mark Greenfield, who backed Perry in 2012.
Greenfield said he wasn't sure that he would support Perry again, but said the governor is making the right moves for another run.
"Definitely the grassroots are what wins the caucuses and getting here early, that makes a huge difference," Greenfield said.
Several other prominent Republicans are also testing Iowa's political waters, including New Jersey Gov. Chris Christie, who visited the state Thursday, Kentucky Sen. Rand Paul, Texas Sen. Ted Cruz, Louisiana Gov. Bobby Jindal and former Pennsylvania Sen. Rick Santorum.
Although it may be hard for Perry to overcome the image he left voters with two years ago, his supporters say it's possible.
Robert Haus, who advised Perry in Iowa in 2012 and is doing so again, said the governor has the opportunity to do things differently this time. He said Perry is coming to stump for Iowa candidates, to speak to activists and better get to know the state. Perry will be back in early August for a forum sponsored by an influential conservative policy group.
"I think the luxury he has now that he didn't have in 2011 and 2012 is time. By his own admission, he got in late," Haus said. "I think people are very open to second chances. I think the measure of a candidate is what you do after adversity. Do you curl up or do you learn from your mistakes?"