Texas Gov. Abbott to tax-burdened New Jersey residents: 'Come to Texas'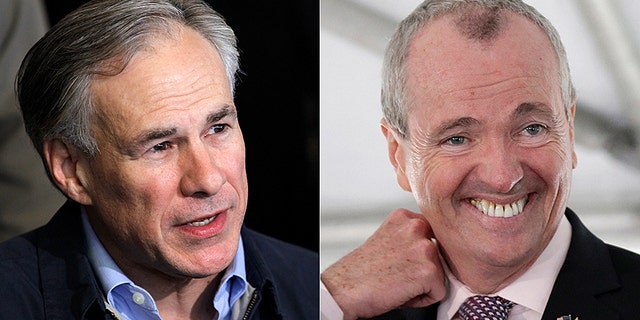 Texas Republican Gov. Greg Abbott is urging tax-burdened New Jersey residents to move to the lone star state, following the release of New Jersey's budget proposal calling for tax hikes in the state where rates are already among the highest in the nation.
In an op-ed for the New Jersey Star Ledger, Abbott welcomed residents of the Garden State down south.
"Hey, Jersey, don't move to Fla. to avoid high taxes, come to Texas. Love, Gov. Abbott," the column is titled.
Abbott outlined the budget proposal unveiled by newly sworn-in Democratic Gov. Phil Murphy, which requests a $2.7 billion increase from the prior year's budget. Abbott wrote that the "tax hikes include raising the sales tax and applying that tax to everything from ride-sharing services like Uber and Lyft to online room booking." The plan also is set to raise income taxes on those making more than $1 million per year.
"This tax hike would only exacerbate the economic woes for a state whose tax burden and cost of living are already among the highest in the nation," Abbott wrote. "That's why I'd like to throw a lifeline to businesses and families throughout New Jersey who are looking for greater economic opportunity and relief from high taxes. Come to Texas and be a part of our economic success story."
Abbott went on to tout Texas' "prosperous economy," citing a focus on "lowering taxes, not raising them," and "free enterprise, not top-down government policies," and his administration's tax cut of $4 billion.
Texas does not have a state income tax, unlike New Jersey, which is set to be increased as part of Murphy's new budget proposal. Abbott also touted Texas' reduction in "regulatory burden," and the "600,000 new jobs," added since he was elected governor.
"I encourage companies and people throughout New Jersey to come to the Lone Star State and be a part of our success story," Abbott wrote. "You'll find that in Texas, anything is possible."
Murphy's spokesperson did not respond to Fox News' request for comment on Abbott's invitation to New Jersey residents to migrate south.
Since taking office in January, the former Goldman Sachs executive- turned- governor inherited growing budget woes from former GOP Gov. Chris Christie's two-term administration, and pledged to bring in new leadership at New Jersey Transit, the state's beleaguered commuter rail and bus agency amid the state's "fiscal crisis."
But so far in his administration, Murphy has signed a bill that restored $7.5 million in family planning funds to Planned Parenthood and other medical facilities, reversing Christie's longstanding veto; and has pledged to be an antagonist of President Trump.
Aside from his plans to raise taxes for the state, Murphy is facing criticism for reportedly spending nearly $13,000 of taxpayer funds to create an office for his wife, who doesn't hold any political office. Murphy also has reportedly spent $27,000 on "refurbishments and redecoration" since he was sworn in as governor.
Murphy defended his wife's office, saying she had a "prominent seat at the table for policy discussions."
On taxes, New Jersey is also negatively affected by the Trump administration's massive tax overhaul, as the new federal law limits residents' state and local tax deduction (SALT) to $10,000. While the law contains sweeping tax rate cuts for businesses and individuals, taxpayers in high-tax states like New York, New Jersey, California and Connecticut are expected to take a hit from the SALT change.
"Capping the State and Local Tax deduction had nothing to do with sound policy," Murphy said. "It is a clear and politically motivated punishment of blue states — like New Jersey and our neighbors —who already pay far more to the federal government than we receive."
Fox News' Adam Shaw, Nicole Darrah and The Associated Press contributed to this report.