Tennessee governor battle between Lee, Dean: A look at the candidates
Businessman Bill Lee and former Nashville Mayor Karl Dean will face each other in November's general election as both men are vying to become Tennessee's next governor.
Lee beat out a crowded and contentious field of GOP candidates to secure his party's nomination; Dean's victory was a little more expected.
Current Gov. Bill Haslam, a Republican who is term limited, threw his support behind Lee.
"Bill is a man of strong faith and character, and I know he will lead Tennessee's business-friendly environment, and he is committed to the education and development of the state's workforce," Haslam said. "Bill has demonstrated that he will put the needs of Tennesseans at the forefront of any decision he makes as governor of our great state."
As Dean and Lee turn their attentions away from their primaries and focus on November, here's a look at the two candidates.
Karl Dean, Democrat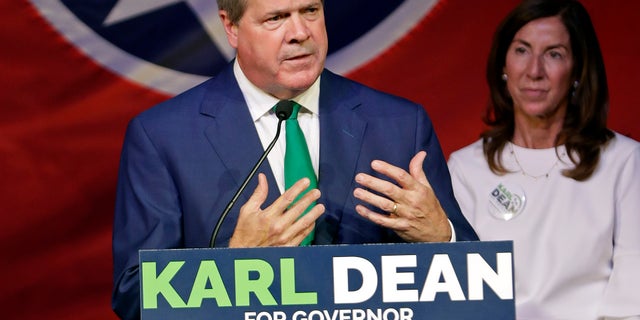 It's been several years since a Democrat has led Tennessee, but Karl Dean, the former Nashville mayor, is hoping to change that.
Dean easily won the Democratic primary in August, beating out state Rep. Craig Fitzhugh and nurse Mezianne Vale Payne.
Education, jobs and health care round out Dean's platform for Tennessee. Throughout his campaign, he's focused on his successes as Nashville's mayor – a job he held through the Great Recession and the 2010 floods – to point to what a Dean governorship would look like.
"We are going forward. We are going forward in this together," Dean, 62, told supporters after he won the Democratic primary. "I am proud of the very positive message we kept throughout the primary election. And we're going to keep it positive. That is what I want to do. ... I don't think people want hyper-partisanship."
FOX NEWS MIDTERM ELECTIONS HEADQUARTERS
Dean contended Tennessee is "more moderate than people really understand" and said he believes he can beat Republican Bill Lee in November's general election.
"I think people want somebody who's going to be practical and pragmatic and get things done," he told The Tennessean.
When it comes to the state's education system, Dean hopes to increase teacher pay while expanding after-school programs, according to his campaign website. He said he supports school choice but opposes "for-profit charter schools and vouchers."
Dean also wants to expand Medicaid and increase access to healthcare in more rural communities where hospitals have shuttered in recent years. The opioid crisis, too, is part of Dean's platform. He says he supports the state legislature's task force on the issue and thinks legal prescriptions and overuse of drugs should be a focus, as well as cracking down on dealers and increasing treatment programs.
Bill Lee, Republican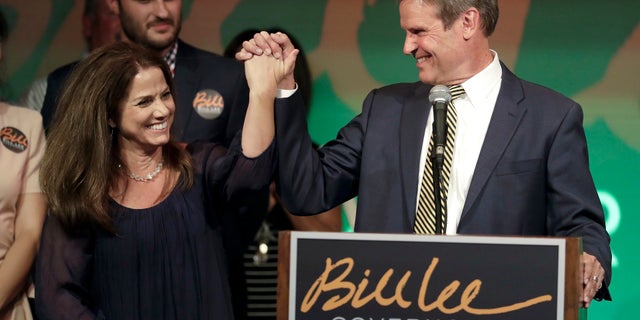 Outsider Bill Lee was one of four leading Republican contenders ahead of the August primary – and the businessman pulled off the upset, sending shockwaves through a state where he was down double-digits in polls as recently as last month.
Lee, 58, beat out Rep. Diane Black, state Rep. Beth Harwell and former state economic development commissioner Randy Boyd. Despite all of the candidates running decidedly pro-Trump campaigns – and Black introducing several bills aligned with the Trump administration's agenda in the months leading up to the primary – the president never made an endorsement.
For Lee, that didn't matter. He took advantage of the infighting among the others in the campaign and traveled the state, touting his Christian values along the way.
Calling his primary win "humbling," Lee's focus, he said, is on growing Tennessee's economy and supporting rural communities as well as boosting the state's education system while cracking down on illegal immigration. He is also a defender of gun rights while staunchly opposed to abortion.
BLACKBURN, BREDESEN LEAD CANDIDATES VYING FOR TENNESSEE SENATE SEAT
"I'm a man who is not a politician, but I do have a vision for Tennessee to lead this nation," Lee told supporters are securing the GOP primary, adding that he is "proud" of his campaign.
Lee's first wife died in a horseback riding accident, and although he's since remarried, he hasn't shied away from talking about how her death impacted his outlook on life and business.
At the time, his family air conditioning business was successful, but he decided to take a step back from it, appointing a new CEO, to spend time with his children, The Tennessean reported.
"My entire life had turned upside down, and I didn't much care about anything that I'd previously cared about for a short period of time, and that's what disarray will do for you," Lee told the newspaper. "I cared about my family, and that was my primary goal at the time."
After her death, he started working at a program geared toward at-risk youth and the Men of Valor, an organization that helps men who have been released from prison readapt into society, The Tennessean reported.
According to his campaign website, Lee Company now garners an annual revenue of $215 million, has won numerous awards and employs more than 1,200 people.
Nashville Predators captain Mike Fisher and NASCAR great Darrell Waltrip are "honorary co-chairs" on Lee's campaign.
Fox News' Gregg Re contributed to this report.