Tea Party Takes On GOP Establishment in Last Primaries Before November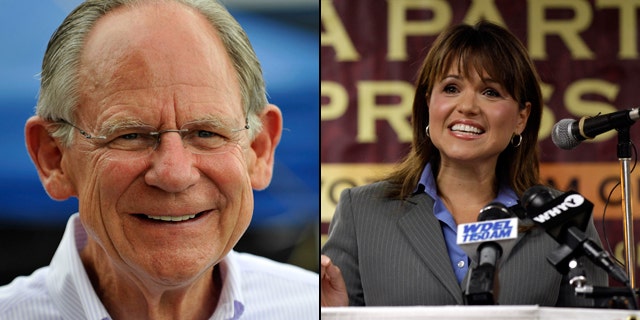 WASHINGTON -- Tuesday's primaries in seven states and the nation's capital, the last big hurrah of the primary season, offer another series of establishment vs. outsider battles whose results could foretell the strength of the Tea Party movement and the "throw the bums out" mentality that may pervade the political spectrum in November.
In many cases, insiders are facing the heat. Challenging the supremacy of New York Rep. Charlie Rangel are five would-be Democratic congressmen, including Adam Clayton Powell IV, the son of the man Rangel defeated in 1971.
In Massachusetts, Rep. Steven Lynch faces a surprise challenge, and eye-popping insurgencies like Christine O'Donnell's Delaware Republican Senate race and New Hampshire GOP Senate candidate Kelly Ayotte's rise from a crowded pack provide analysts a new cast of characters to measure and evaluate.
Many of the outcomes on Tuesday night could determine the slate of lawmakers who will enter Congress next year. Polls show that some contested primaries will be bigger races than the November fights.
Ayotte, for instance, who has earned a crossbreed of establishment and outsider support, must defeat Tea Party favorite Ovide Lamontagne and two others to vie for the seat currently held by retiring Republican Sen. Judd Gregg. If she wins on Tuesday, she already has a leg up on her presumptive Democratic challenger in November, Rep. Paul Hodes.
Whoever wins the Democratic primary in Rangel's Harlem district will be an overwhelming favorite to win the general election.
In Washington, D.C., Mayor Adrian Fenty is being challenged by several candidates, with D.C. Council chairman Vincent Gray offering the toughest fight. The victor is almost guaranteed to be mayor because there is no Republican challenger in the race.
But in cases where general elections are expected to be competitive, Democrats are hoping that the GOP choices will saddle the party with unelectable candidates who are too extreme for moderate voters.
In Delaware, Rep. Mike Castle, who's held nearly every elected seat in the state, has argued he is the only Republican moderate enough to beat Democrat Chris Coons for the seat vacated by Vice President Joe Biden. Coons trails Castle in the polls, but he leads O'Donnell.
Conversely, in places like Rhode Island's 1st Congressional District, Democratic infighting has become so fierce -- with Providence Mayor David Cicilline facing a spate of Democratic outsiders -- that Republicans are looking anew at a seat it didn't think could be a pick-up. But the GOP must first field a viable nominee from a contested primary election.
As a result, the Republican establishment, which has weighed in favor of incumbents in surprisingly tight GOP contests, is hoping that the Tea Party energy remains into November.
So far this year, "roughly 4 million more Republicans than Democrats have gone to the polls in primary elections, which lends more evidence to the enthusiasm gap between the two parties and which should be of deep concern for Democrat leaders as we move towards November," said Sen. John Cornyn of Texas, who heads the Republican Senate campaign effort.
Democrats, on the other hand, see the internecine fighting in the GOP as an opportunity to make gains or keep seats in states that include Kentucky, Colorado, Nevada and Alaska.
"The messes created by these primaries have given Democrats a more competitive edge in a handful of key races," said Eric Schultz, a spokesman for the Senate Democratic campaign committee.
Other contests remain wholly unpredictable.
In Maryland, former Republican Gov. Bob Ehrlich faces a primary challenge from Brian Murphy, 33, a business investor who was virtually unknown before winning Sarah Palin's endorsement last month. Democratic Gov. Martin O'Malley, who ousted Ehrlich from office in 2006 and is facing minor primary opposition, is hopeful he'll get a second term, but an Ehrlich win would pose a daunting challenge to O'Malley.
Wisconsin Republicans are choosing among three candidates to pick a challenger for Democratic Sen. Russ Feingold, and businessman Ron Johnson is widely viewed as the prohibitive favorite. For Feingold, who is seeking a fourth term, feeling any heat in a general election will be a new experience.
In New York, Attorney General Andrew Cuomo is unchallenged for the Democratic gubernatorial nomination, while Republicans are choosing between former Rep. Rick Lazio, backed by party officials, and Carl Paladino, a wealthy developer who campaigned with support from Tea Party activists.
The Associated Press contributed to this report.