Tea Party groups make gains against 'ObamaCore' education program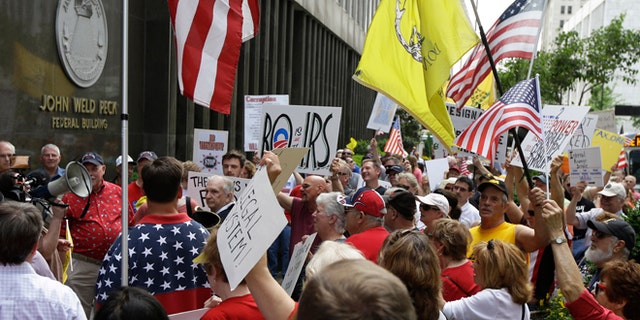 Tea Party groups are barnstorming state capitals across the country to stop an Obama administration-backed initiative to impose federal math and English education standards on public schools.
Though conservatives have long argued that state and local officials can best make decisions on K-12 education, the Tea Party's opposition to the federal program -- Common Core State Standards -- represents a pivot for the movement, which started in 2009 to promote lower taxes and smaller government. And they are making gains, as some states consider putting the program on hold.
"We have a renewed sense of vigor," Lee Ann Burkholder, founder of the 9/12 Patriots in York, Pa., told FoxNews.com. "And when it comes to your kids or grandkids, people really get fired up."
The Tea Party is already riled up following revelations that the IRS had been singling out its groups over the past few years.
On the education issue, Burkholder said her group held a meeting this spring that attracted 400 people, double the usual number. The meeting was followed by a bus trip to the state capital in which members wore matching T-shirts and pressed their case to lawmakers.
Groups have pressured state legislatures and school boards from Michigan to Georgia to drop their support or defund the bipartisan-backed program they've dubbed "ObamaCore," putting heat on Republican governors in particular. It's not so much the actual standards they object to but the fact that it's coming from Washington as opposed to the state level, and could lead to tracking student data across the country.
Lawmakers, include several seeking reelection, have taken notice, especially after hearing about Tea Party groups vowing to back challengers to those who continue to support Common Core.
Seven state legislatures purportedly have proposed legislation to at least delay implementation. And two states with Republican governors -- Indiana and Pennsylvania -- have put the program on hold.
In addition, Georgia Republican Gov. Nathan Deal, up for reelection in 2014, issued an executive order last month titled Reaffirming State Sovereignty over Education that in part said: "No educational standards shall be imposed on Georgia by the federal government."
Deal later told The Washington Post: "We didn't see it coming with the intensity that it is, apparently all across the country."
Common Core was designed by governors and state education officials with input from teachers and others, with much of its funding coming from the Bill and Melinda Gates Foundation.
So far, 45 states and the District of Columbia have adopted the standards, which are scheduled to go into effect next year.
The Tea Party effort got a boost when FreedomWorks got involved.
The well-funded national group has devoted a variety of resources to raising awareness about the issue, an effort that includes putting several information pages on its website and hosting a national teleconference Wednesday night.
"Common Core dictates what (teachers) teach, how they teach it and when they teach it," Whitney Neal, a FreedomWorks grassroots organizer, said. "Every child is treated the same."
However, Common Core states the program only sets standards for math and English language arts, not a national curriculum, and says teachers play a big role.
"Local teachers, principals, superintendents and others will decide how the standards are to be met," the group says on its website. "Teachers will continue to devise lesson plans and tailor instruction to the individual needs of the students in their classrooms."
Neal and others suggest states were pigeonholed into accepting the program so they could get much-needed Race to the Top education grants in Obama's 2009 stimulus package. And they are concerned about the gathering of student-assessment data for comparison among students, schools, districts and states.
"It's very creepy," Neal said.
Potential 2016 presidential candidate and former Florida Republican Gov. Jeb Bush has landed in the middle of the controversy.
A champion of education reform, including support of home schooling and school vouchers, he has essentially asked lawmakers to resist the Tea Party pressure.
"The Common Cause State Standards are clear and straight forward," he told business leaders last month in Michigan. "Do not pull back. Please do not pull back from high, lofty standards."