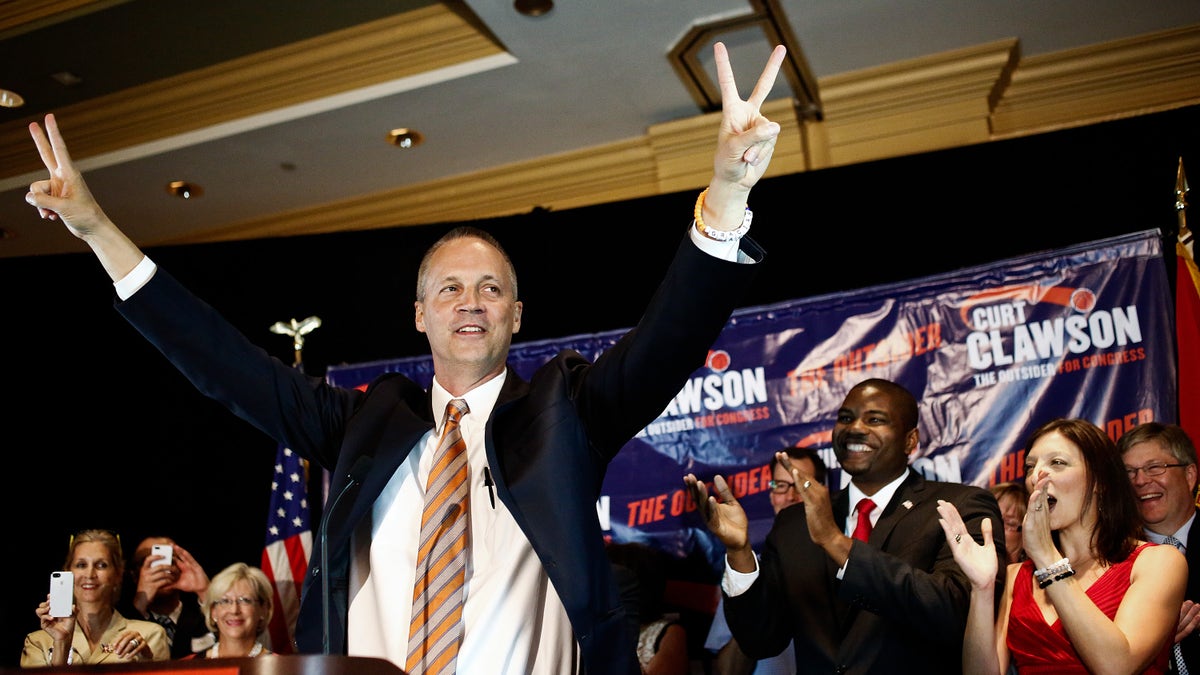 MIAMI – In a victory for the Tea Party movement, Republican Curt Clawson won a special election in southwest Florida on Tuesday to replace former U.S. Rep. Trey Radel, who resigned in January after pleading guilty to cocaine possession.
The businessman and former Purdue basketball star cruised past Democrat April Freeman and Libertarian Ray Netherwood in a solidly Republican district on the state's Gulf Coast. According to early unofficial results, Clawson captured 66 percent of the vote for District 19, which includes most of Lee County and about a third of Collier County.
On Nov. 20, Radel pleaded guilty to a misdemeanor charge of cocaine possession and was sentenced to a year of probation. He admitted to buying cocaine from an undercover officer Oct. 29 in Washington. Radel, a onetime tea party favorite, resigned in January.
Clawson will now serve the remainder of Radel's term but must face voters again in November to win re-election.
The special election was essentially a formality in a Republican stronghold that hasn't elected a Democrat to Congress in more than four decades. In 2012, voters backed GOP presidential nominee Mitt Romney over President Barack Obama 61 percent to 39 percent.
The run-up to Tuesday's vote was relatively quiet. Most of the political intensity was reserved for the heated and expensive four-way GOP primary in April.
To clinch his party's nomination, Clawson, a former CEO of an aluminum wheel company, tapped his personal wealth and cast himself as a political outsider who promised to cut taxes, reduce the deficit and repeal Obama's health care law. In a bid to boost his name recognition, the former college basketball captain ran an ad during the Super Bowl in which he challenged Obama to a three-point shootout.
Clawson derided his Republican opponents as part of Florida's political establishment, and he attracted support from Kentucky Sen. Rand Paul and Tea Party groups, who helped him defeat two well-known state lawmakers, each backed by super PACs. He survived attacks on his business record, which included layoffs, plant closures and a deadly explosion at an aluminum company.
In all, Clawson spent $3.65 million of his own money to win the congressional seat, shelling out most of that during the primary, according to campaign finance reports. Freeman, the Democratic nominee, spent roughly $107,000 on her campaign.