Taxpayer Calculator: High-Speed Rail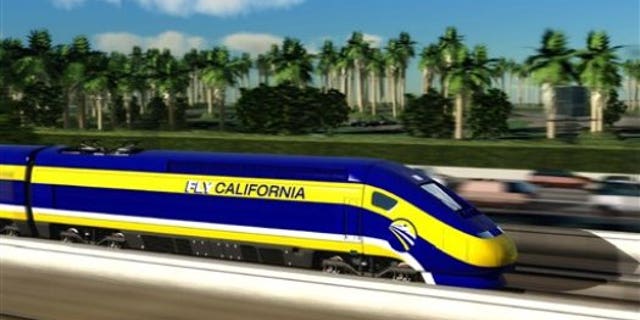 Among the line items in the $3.7 trillion budget blueprint President Obama outlined this week is a six-year $53 billion investment in a national high-speed intercity passenger rail network.
The Administration is pushing ahead with its plan to give 80 percent of Americans access to high-speed rail within 25 years, despite the rejection of federal funds from newly-elected Republican governors in Wisconsin, Ohio and now Florida.
((CLICK HERE FOR THE TAXPAYER CALCULATOR))
"Ridership and revenue projections are historically overly-optimistic and would likely result in ongoing subsidies that state taxpayers would have to incur," Governor Rick Scott, R-Fla., said in announcing his opposition to Obama's plan.
Scott's rejection is particularly upsetting to rail advocates, many of whom saw the Florida project, along with one in California, as one of the nation's most viable. President Obama himself went to Tampa immediately following his first State of the Union address in January 2010 to announce $1.25 billion in federal stimulus funds for the Florida project and an $8 billion down payment on other projects nationwide.
"It is projects like these that will help America out-build our global competitors and lay the foundation needed to win the future," said Transportation Secretary Ray LaHood. "This project could have supported thousands of good-paying jobs for Floridians and helped grow Florida businesses, all while alleviating congestion on Florida's highways."
But with such a high price tag, even some transportation advocates fear the administration has rail envy after seeing what Europe and China have been able to do. Wendell Cox, who has advised local and state governments on transportation issues for decades, questions the benefits high-speed rail would have on other modes of transportation, and says such a large sum of money would be better spent elsewhere.
"It doesn't work in most of the rest of the world," Cox said. "It's not just the demographics of the U.S., it is just very expensive technology, it doesn't reduce traffic congestion and it doesn't reduce airline congestion."
Do you think high-speed rail is worth the public investment? Check out our Taxpayer Calculator for an up-close look at how much of your tax contribution is paying for this project, then vote on whether or not you think the money is being well spent.