Syria Pushes Back Against Obama's Condemnation of Government Crackdown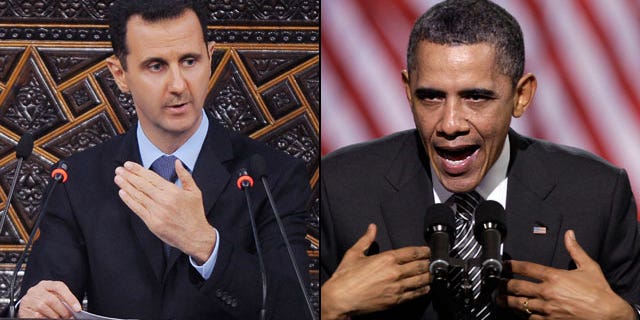 NEWYou can now listen to Fox News articles!
A Syrian official fired back Saturday at President Obama's condemnation of the latest use of force by the government against demonstrators as two parliamentarians resigned in protest over the violent crackdown.
A Syrian government official expressed regret over Obama's criticism, saying it was "not based on an objective and comprehensive view of what is truly happening."
Obama on Friday said the regime's "outrageous" use of violence against the protesters must "end now."
Syrian security forces killed at least nine people when they opened fire on thousands at funeral processions Saturday.
On Sunday, rights campaigners told Reuters that secret police raided homes near Damascus overnight in a bid to suppress opposition against President Bashar Assad.
At least 75 people were killed Friday when Syrian security forces fired bullets and tear gas at thousands of protesters across the country. It was the bloodiest day of the monthlong uprising against Assad.
In other towns, protesters scattered for cover from sniper bullets, then dragged corpses through the streets. Mobile phone images showed the bodies lined up on the floor inside buildings.
The rallies, most marching out from mosques after Friday's noon Muslim prayers, erupted in towns and cities stretching along the breadth of the country, including in at least two suburbs of the capital, Damascus.
In a statement, Obama said Syria's moves on Thursday to repeal a decades-old emergency law and allow peaceful demonstrations were not serious in light of Friday's events.
He called on Assad to change course and obey the will of his people by giving them what they seek -- freedom of expression, association, peaceful assembly and the ability to choose their leaders.
He also accused the Syrian government of working with Iran to suppress the freedom of its people.
"President Assad is blaming outsiders while seeking Iranian assistance in repressing Syria's citizens through the same brutal tactics that have been used by his Iranian allies," he said.
But the Syrian official on Saturday said that the government had already refuted that claim and expressed surprise over Obama's insistent to repeat the allegations "which shows a lack of responsibility and represents a part of the instigation that puts Syrian citizens at risk."
Meanwhile, Nasser al Hariri, a member of the Syrian parliament, announced his resignation Saturday. "Government can't protect my people when they get shot so I resign from parliament," he told Al-Jazeera television. Lawmaker Khalil al-Rifaei also announced his resignation on the air, citing the government crackdown.
"Security solutions do not work," he said.
The Associated Press contributed to this report.