Steve Scalise, congressional aide shot: What we know so far
NEWYou can now listen to Fox News articles!
House Majority Whip Steve Scalise, R-La., a congressional aide, two U.S. Capitol Police officers, and a government relations director were shot during baseball practice in Virginia on Wednesday morning.
POLITICIANS REACT TO VIRGINIA BASEBALL PRACTICE SHOOTING
Here's what we know:
Shots rang out at about 7:15 a.m. ET at Simpson Field on East Monroe Street in Del Ray, where Republican lawmakers were practicing for Thursday's Congressional Baseball Game. 
Scalise was shot in the hip and was undergoing surgery at MedStar Washington Hospital Center. He is in stable condition.
Texas Rep. Roger Williams said Zack Barth, a member of his staff, was also shot and is being treated. Williams said Barth is expected to make a full recovery and asked the public to respect his privacy at this time. 
Special Agents David Bailey and Crystal Griner were among the shot and wounded.
One of the people injured in the shooting was identified as Matt Mika, a Tyson Foods Inc.. spokesman told The Associated Press. Mika is a director of government relations at Tyson's Washington, D.C.
Officials said that U.S. Capitol Police shot and apprehended the gunman, who was identified as James T. Hodgkinson of Belleville, Illinois. He was taken to the hospital and later died from his injuries.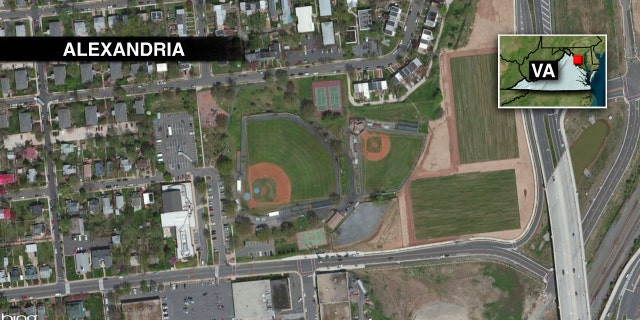 Hodgkinson appeared to be a volunteer with Bernie Sanders' failed presidential campaign, the Vermont senator said in a statement. "I am sickened by this despicable act," Sanders said.
The gunman has had run-ins with police in the past; the Belleville News-Democrat reported that Hodgkinson was charged in 1993 with DUI, resisting arrest and fleeing the scene, and was also charged in 2006 with two battery charges. Both the 1993 and 2006 charges were dismissed.
Back in March, police were called to a wooded area near Hodgkinson's residence for reports of gunfire and subsequently told Hodgkinson to stop firing his shotgun in the area.
Bill Euille, the former mayor of Alexandria, told the Washington Post that Hodgkinson had recently been "living out of [his] gym bag."
The FBI will lead the investigation, officials said. The FBI said it's too early to say if this was an act of terror or if the people on the field were targeted. The bureau said it is investigating all possible motives at this time. 
"We have every indication that this was an isolated incident," Alexandria police said. 
Roughly 15-25 people were at the practice, including Sens. Rand Paul, R-Ky., and Jeff Flake, R-Ariz.
Paul told MSNBC that "it would have been a massacre" if Capitol Police weren't there.
President Donald Trump held a news conference Wednesday afternoon and thanked the two Capitol officers for their "heroic actions." In an earlier statement, he said he and the vice president were "deeply saddened by this tragedy. Our thoughts and prayers are with the members of Congress, their staffs, Capitol Police, first responders, and all others affected."
Trump also tweeted a few minutes after the press release that "Rep. Steve Scalise of Louisiana, a true friend and patriot, was badly injured but will fully recover. Our thoughts and prayers are with him."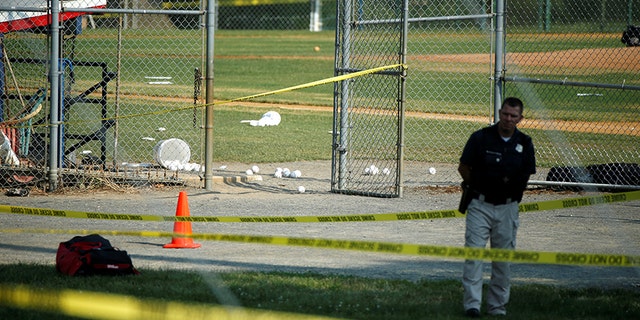 Rep. Mo Brooks said the gunman fired about 50-100 shots during the attack. 
Rep. Ron DeSantis, R-Fla., told Fox News that he departed just before the shooting began. When he walked to his car, a man asked him if Republicans or Democrats were practicing on the field. A few minutes later, shots rang out, DeSantis said. 
The Department of Homeland Security is closely monitoring the incident.