Staten Island prosecutor in Eric Garner case wins congressional special election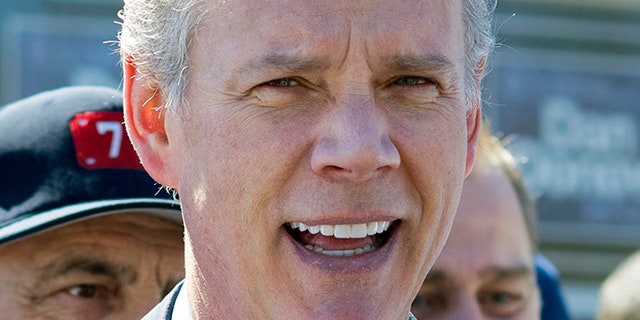 NEWYou can now listen to Fox News articles!
NEW YORK – A district attorney connected to the case of an unarmed black man who died after a white police officer's chokehold was elected Tuesday to fill a congressional seat left vacant when the incumbent pleaded guilty to tax fraud.
Staten Island District Attorney Daniel Donovan, who empaneled the grand jury that declined to indict the officer who placed Eric Garner in the fatal chokehold, will keep the congressional seat in Republican hands. He defeated Democratic City Councilman Vincent Gentile in a low-turnout special election to succeed Michael Grimm.
The race occurred in the shadow of the Garner decision, which helped fuel the national debate on the relationship between police and communities of color.
With more than 96 percent of the vote counted in unofficial results, Donovan led Gentile 60 percent to 38 percent. More than 37,000 votes had been counted.
Donovan becomes the lone Republican to represent the city in Congress. His victory also will put an end to the tally on the front page of the Staten Island Advance, the local newspaper, which noted the number of days -- well more than 100 -- the area was without congressional representation.
Donovan came to national attention last year after a cellphone video showed Garner being placed in a chokehold during a street confrontation with police. The grand jury decision in December led to protests, and Garner's name was cited on social media by a gunman who killed two New York Police Department police officers weeks later.
It also was a perpetual presence as Donovan campaigned, even as he took pains to avoid the subject. At a debate between Donovan and Gentile, a former state senator, someone in the audience yelled, "I can't breathe!" a reference to Garner's last words.
In an interview, Donovan said that he had people ask him how the grand jury's decision could have happened but that it was a misconception that he could have determined the outcome.
"I always try to correct people when they say, `You failed to get an indictment,"' he said. "That means that our goal should have been to get one. And our goal is to present fair and impartial evidence to 23 members of our community."
But the specter of the Garner decision didn't hurt Donovan on Staten Island, home to a significant number of police officers, firefighters and working-class white people, and the outcome of the race was never truly in doubt.
The 11th Congressional District is considerably more conservative than other districts in the city as it includes Republican-heavy Staten Island along with a small part of southern Brooklyn.
Grimm had won re-election last November even under federal indictment, handily defeating another City Councilman, Domenic Recchia, the beneficiary of a significant investment by the national Democratic Party.
This time, the national Democrats largely stayed away, and local powerbrokers including Mayor Bill de Blasio and Gov. Andrew Cuomo did little more than offer perfunctory endorsements. And, for the second straight race, the Democrats picked a candidate from Brooklyn, who inherently faced an uphill climb in a district largely drawn from Staten Island.
Democratic officials have suggested they will mount a fiercer challenge in 2016, when a presidential election could bolster turnout. Grimm will be sentenced next month and could face more than two years in prison.
Also on the ballot in Tuesday's special election was a quirky race for the 43rd state Assembly District seat.
The district, in heavily Democratic Brooklyn, did not feature a candidate on the Democratic line since the candidate who was chosen by the local party didn't file the required paperwork on time. Instead, three Democrats ran on other party lines in an effort to represent Crown Heights and East Flatbush neighborhoods.
With 98 percent of the vote counted in unofficial results, Diana Richardson, who was on the Working Families line, had 50 percent of the vote, ahead of Shirley Patterson on the Independence Party line, Republican Menachem Raitport and Geoffrey Davis on the Love Yourself party line.
Democratic state Assemblyman Karim Camara left the position after he became the executive director of the governor's Office of Faith-Based Community Development.