State dinner for Japanese prime minister offers new chef -- and chopsticks for the brave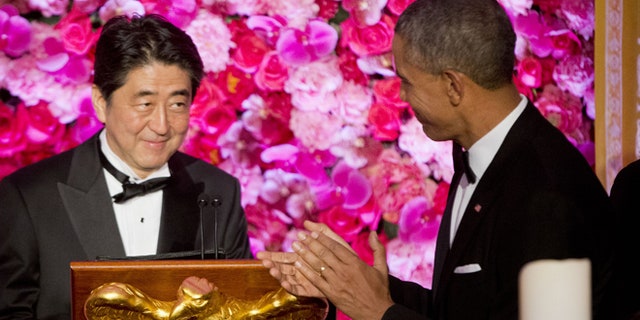 WASHINGTON – President Barack Obama's state dinner for the prime minister of Japan offered guests a new chef, new china and the specter of chopsticks -- a daunting challenge for some nervous newcomers, no big deal to others.
The president welcomed guest of honor Shinzo Abe with a toast over sake that included a haiku about spring and friendship.
Abe, in return, went with R&B.
He quoted the song "Ain't No Mountain High Enough" to convey the strength of the bonds between the U.S. and Japan.
First lady Michelle Obama found another way to pay tribute to the guest nation, wearing a purple sleeveless gown by Japanese-born designer Tadashi Shoji.
With less than 200 guests, it was Obama's smallest state dinner, and it had a decidedly low celebrity quotient.
"Star Trek" luminary George Takei was back for his first state visit since the Clinton administration. TV powerhouse Shonda Rhimes, mastermind of the hit shows "Grey's Anatomy" and "Scandal," was a first-timer.
Asked about her chopstick skills, Rhimes waggled her hand uncertainly. Takei, by contrast, said he'd grown up with chopsticks.
Takei's husband, Brad, wondered what the big deal was.
"Is that exotic for the White House?" he asked.
Anyway, no worries: There was flatware for those wanting to play it safe.
Seattle Seahawks quarterback Russell Wilson turned up with R&B singer Ciara, fresh off attending the White House Correspondents' Dinner over the weekend with his grandmother.
"She's back in Virginia," Wilson explained of his grandmother. His new date, for her part, took plenty of time to arrange her gown just so -- twice -- for the cameras.
Former Vice President Walter Mondale, who also served as ambassador to Japan, arrived at the White House in the role of seasoned veteran of state dinners.
Asked how many he'd attended, Mondale mused, "I'm not sure. Thirty?"
"When I was vice president, I had to go," he confessed.
Guest chef Masaharu Morimoto, of TV's "Iron Chef" fame, and the White House culinary team served up a meal fusing American and Japanese influences: Think Caesar salad tied up with Mizuhiki paper cord. American Wagyu beef. And cheesecake -- made with tofu and soy milk.
Tables in the East Room sported the new White House china that the Obamas unveiled this week, featuring stripes of a "Kailua blue" hue inspired by the Pacific waters that are dear to the Hawaiian-born president and the Japanese as well.
As with every state dinner, it was all part of a carefully laid plan to promote friendly relations between the U.S. president and the leader of the guest country. That would be Abe, who joked at a Tuesday luncheon that he dared not overdo the drinking at dinner because he's addressing a joint meeting of Congress on Wednesday.
Even the after-dinner entertainment was aimed at bringing together the two cultures. Cast members from the film adaptation of "Jersey Boys" were performing selections from the jukebox musical, which was popular in Japan.
The White House state dinner has become an especially rare commodity under this president: This is just the eighth state dinner for Obama over more than six years in office. That's the smallest number since the six dinners that Harry Truman played host to over eight years in office, according to the White House Historical Association. Obama has at least one more dinner in the offing, for China in the fall.
Morimoto was a natural choice as guest chef for the Obamas. His restaurant on Oahu is a favorite dining spot when the Obamas vacation in Hawaii. The chef tweeted a photo of himself working side-by-side with White House executive chef Cristeta Comerford in the cramped White House kitchen and called it an honor to be there.
Signs of transition in the final two years of the Obama administration were evident: After four years on the job, Social Secretary Jeremy Bernard was presiding over his final state dinner before handing off to his deputy, Deesha Dyer, a former hip-hop journalist who started out as a White House intern.
Early in the night, Bernard was all-business. But he predicted that would change as the night wore on.
"I will get nostalgic probably around 11 o'clock," he said.
Bouquets of vibrant orchids, cherry blossoms and other flowers were arranged by the in-house White House team, with an assist from an unidentified outside design firm. Head florist Laura Dowling, who departed earlier this year, has not been replaced.