State Department defends $1 million sculpture for London embassy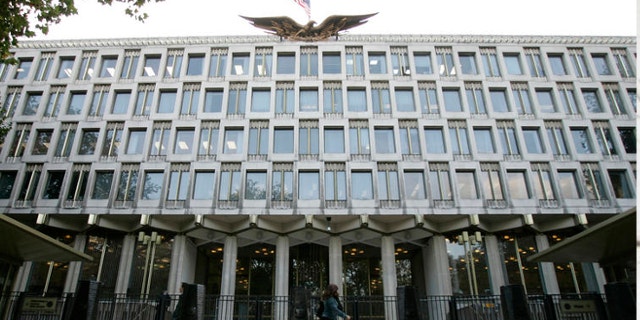 The State Department on Friday defended its decision to commission a $1 million sculpture for the American embassy in London just days before the partial government shutdown in October.
The department awarded the contract for the granite sculpture to Sean Scully, an Irish-born American artist, as part of its Art in Embassies program, which curates exhibitions for American embassy and consulate facilities.
"Like much of the art purchased by this program, this piece was purchased under the market price after considerable negotiation with both the artist and the gallery. This is an important part of our diplomatic presence overseas," spokeswoman Marie Harf said.
The Art in Embassies program is a public-private partnership that includes artists, museums, galleries, universities, and private collectors. Harf said the initiative has "played a leading role in U.S. public diplomacy with a focused mission of cross-cultural dialogue and understanding."
The sculpture, which reportedly will be installed at new London embassy building in 2017, was a "good use" of the department's limited resources, Harf said at Friday's daily press briefing.
Meanwhile, The Washington Times reported earlier this week that the department spent about $180,000 on alcohol in September and $400,000 in all of 2012, three times the $118,000 spent in 2008.
The booze tab reportedly has risen every year since 2008, but the end of fiscal 2012 saw a particular spike. Part of the reason could be that, toward the end of the year, federal agencies often try to spend what's left in their budgets in order to reduce the risk that Congress will target them for cuts.
Records for U.S. embassies show that alcohol spending went up at American posts around the world. The purchases included nearly $16,000 for bourbon and whiskey in Moscow, and more than $22,000 for wine in Tokyo.
Some of the purchases were listed as "gratuity" items, meaning they were likely gifts. The State Department noted that the U.S. is trying to "make the best impression" with foreign governments and groups.
Harf said Friday that the September alcohol purchases were made after the department's fiscal operating plan was approved by Congress, which coincidentally ended up being right before the partial government shutdown.
"We do so mindful of our duties as the steward of the public resources that have been entrusted to us. We also endeavor, wherever possible, to buy wine, beer, and other alcoholic beverages made in the United States," she said.