Spicer taking on new White House role
NEWYou can now listen to Fox News articles!
Press Secretary Sean Spicer will soon be taking on a new role at the White House, overseeing the entire communications operation including the press office while giving up some of his day-to-day duties at the podium, Fox News has learned.
While Spicer's new title is still being decided, his new role will be considered a promotion to a position at the level of deputy chief of staff.
Unclear is who will take over the regular duties as press secretary -- though President Trump is fond of Deputy Press Secretary Sarah Huckabee Sanders' performance to date -- or who will become communications director.
"We have sought input from many people as we look to expand our communications operation. As he did in the beginning, Sean Spicer is managing both the communications and press office," the White House said in a statement.
The new approach represents a departure. Traditionally, the White House carves out separate roles and staffs for the press secretary and communications director.
In the early days of the Trump administration, Spicer was filling both roles. Michael Dubke was hired as communications director, but his departure a few weeks back left Spicer once again filling both positions.
With the upcoming changes, Spicer will assume a supervisory role over both the press and communications offices.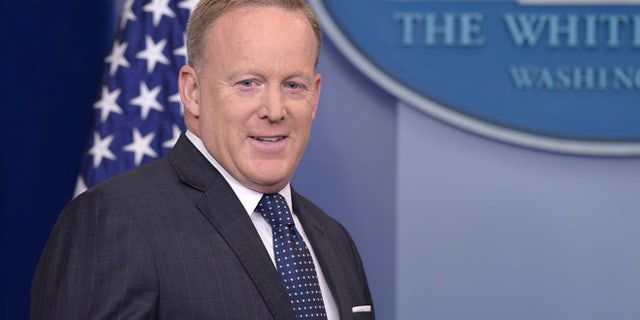 Speculation has been rampant for weeks about Spicer's status at the White House, especially in the wake of President Trump's abrupt decision to fire FBI Director James Comey. While Spicer was on Navy reserve duty in the immediate aftermath, his deputy Sanders took the podium in his absence and earned generally positive remarks for her handling of the tough press questions that followed.
More and more of Spicer's briefings have been off-camera in recent weeks, including Monday's.
While the president would still like Spicer to do briefings from time to time, Spicer's preference is to work solely behind the scenes.
Fox News' John Roberts contributed to this report.