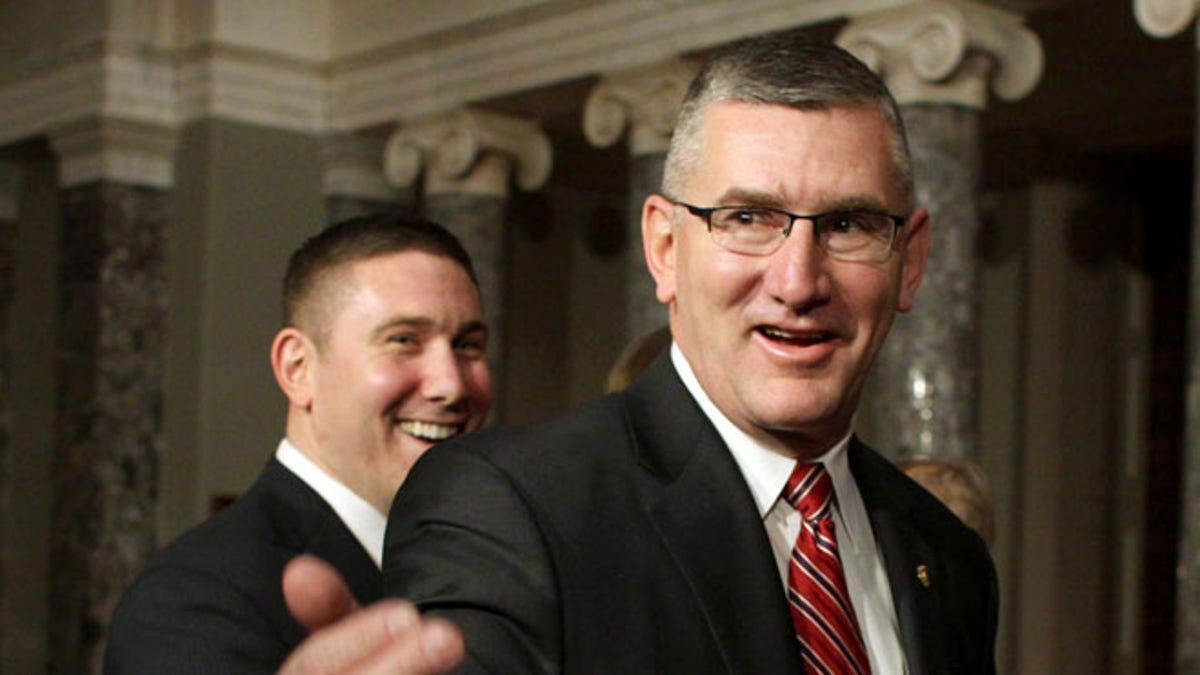 Embattled Democratic Sen. John Walsh, who is facing mounting pressure from local media in Montana over a plagiarism scandal, is fueling speculation about whether he plans to stay in the race after his campaign postponed at least two events this week.
The candidate for two weeks now has been battling allegations that he plagiarized part of the paper he submitted for his master's degree in 2007. After the reports first surfaced, his political team said the allegations "will not change Senator Walsh's commitment to his campaign."
Since that time, the drumbeat for Walsh to drop out -- or at least stop campaigning -- has grown in his home state. The editorial boards of Montana's three largest daily newspapers have called for him to withdraw his candidacy, while others have demanded an apology or to forfeit his master's degree.
The Missoulian published a blistering editorial saying, "Montanans simply cannot -- and won't -- trust a senator who portrayed the words and ideas of others as his own for his own personal gain." The board urged the senator to bow out "immediately."
Politico.com reported Tuesday that Walsh and his political team are deliberating whether to stay in the race.
Fueling the chatter, the candidate's campaign notified Gallatin County Democratic party members that he would not attend a backyard meet-and-greet in Bozeman hosted by Women for Walsh that was scheduled for Wednesday or a Friday talk on public lands at the county party's new headquarters.
The campaign did not give a reason why, said Billy McWilliams, a member of the Gallatin County Democrats' executive committee.
"Nobody's talking," McWilliams told The Associated Press. "It happened pretty quick this morning."
The Bozeman Daily Chronicle first reported the postponements.
Walsh, if he is considering whether to stay or drop out, is under a tight timetable. He would face a Monday deadline to withdraw, after which Democrats would have until Aug. 20 to pick a replacement.
The campaign has not responded to a request for comment. The Montana Democratic Party continued to pledge its support of Walsh on Tuesday. "Senator Walsh is our U.S. Senator and candidate," party spokesman Bryan Watt said.
Regardless of his decision, the scandal has cast a cloud over Democrats' already diminishing chances of holding onto the Senate seat that once belonged to powerful Democratic Sen. Max Baucus, now U.S. ambassador to China. Walsh was appointed to finish Baucus' term, and is running for election in November.
But the race is considered one of the most likely to flip to Republican hands next year, with GOP Rep. Steve Daines vying for the seat.
Though a few high-profile names reportedly have been floated as candidates to run in Walsh's place if necessary, an editorial in the Billings Gazette argued "there is no replacement candidate who could jump in and run a competitive campaign in the little time left before voting starts."
Still, the editorial board said Walsh should "stop campaigning and do his utmost to serve Montanans well in the remainder of his brief Senate appointment."
The New York Times first reported that the senator plagiarized portions of the 2007 research project he wrote while attending U.S. Army War College.
Walsh previously said he made unintentional mistakes in not citing others' work in his paper on the spread of democracy in the Middle East. He also said he was being treated for symptoms of post-traumatic stress disorder at the time, but added he was not blaming PTSD for his mistake.
A statement from the campaign after the Times report was published said: "Despite an unintentional mistake at the U.S. Army War College, he is back working for and protecting Montana and serving this nation, and we look forward to sharing the contrast to Congressman Steve Daines' record of privatizing Medicare, selling off public lands, and voting against veterans – while protecting tax breaks for fellow millionaires."
The Associated Press contributed to this report.