Southwest Has History of Triggering FAA Action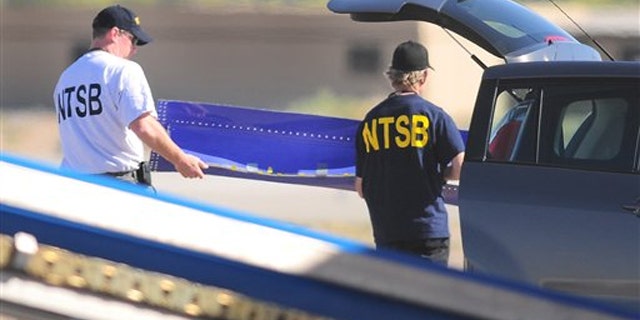 With more cracks being found during inspections of Southwest airplanes after a ruptured fuselage forced an emergency landing, federal officials may end up drafting new regulations to fix the problem -- but it wouldn't be the first time the feds had to take a regulate-as-you-go approach with the budget airline.
Three years ago, the Federal Aviation Administration cited the airline for operating dozens of planes that had not been properly inspected for fatigue cracking a year earlier, leading to a historic fine and a new set of safety requirements. Then in 2009, a fuselage hole forced a Southwest flight to make an emergency landing in West Virginia, again leading to new safety recommendations.
The problem with the flight out of Phoenix over the weekend may be a new one. Southwest said the aircraft was "in compliance" with federal requirements, and an FAA official told FoxNews.com there didn't appear to be any unfulfilled directives pertaining to the part of the airplane that broke. The airline described the problem as a "new and unknown issue."
But once again, federal regulators may have to respond with new rules after-the-fact to a problem with a Southwest Airlines flight.
"I'd argue that Southwest is probably the most inspected aircraft carrier," former FAA official Scott Brenner said, noting the carrier's history of violations.
The Federal Aviation Administration says it will also issue an emergency safety order that requires special inspections aimed at finding metal fatigue in some Boeing 737s, reported the Associated Press.
The most significant clash came in early 2008, when the FAA moved to fine Southwest for operating planes without proper inspections. At the same time, the FAA was under fire for allegedly allowing the airline and its regulators to become too cozy.
Two FAA whistleblowers testified in 2008 about these problems on Capitol Hill. One of them, inspector Charalambe Bobby Boutris, testified that he was finding problems with the carrier's compliance records dating back to 2003 but that his supervisor would push back whenever he brought those problems to his attention -- he simultaneously accused Southwest of retaining an ex-FAA inspector to deal with oversight issues, so it could use his FAA connections to the airline's "advantage."
Despite Boutris' trouble starting an investigation, Southwest eventually self-reported to the FAA in March 2007 that dozens of planes might be overdue for inspections.
The company brought those planes -- six of which had fatigue cracks -- into compliance in a matter of days. However, it was later discovered that during that period, the airline continued to operate those planes despite the safety concerns. Boutris said at the time that Southwest flew the planes with passengers aboard in "known unsafe condition."
"The skin fatigue and cracks could have resulted in a sudden fracture and failure of the skin panels of the fuselage, and consequently cause a rapid decompression which would have had a catastrophic impact during flight," he said in written testimony.
The FAA later fined Southwest $10.2 million and eventually reached a $7.5 million settlement for the violation.
Brenner said that because Southwest is so heavily scrutinized, the alleged problems that surfaced in 2007 -- cozy relationships, lax inspection -- probably are not to blame this time around. Rather, he said the National Transportation Safety Board would probably put forward new recommendations requiring more frequent inspections for subsurface cracks. Those kinds of inspections require more time and "advanced technology" to complete, he said, so the FAA would have to work out a viable set of rules with airline carriers in the wake of the latest accident.
NTSB spokesman Terry Williams said the board has not yet made "any connection" between the 2007 inspection problem and the latest accident. He said the board has not yet decided whether it will call for new rules.
FAA spokesman Les Dorr said any decision about new regulation would probably be reached relatively soon.
"I think you can anticipate some sort of FAA action in this matter," he told FoxNews.com.
Southwest has found three more planes with small cracks after grounding 79 of its aircraft in the wake of the accident. Though the company is performing additional inspections now, it said in a statement that its 737 fleet is "constantly undergoing rigorous checks and inspections as directed by the FAA and Boeing, the aircraft manufacturer."
As part of the $7.5 million settlement between the FAA and Southwest, the airline was told to fulfill 13 new safety requirements as a condition or face another $7.5 million fine.
Asked whether Southwest had accomplished those safety goals, Dorr said: "I have not heard anything to the contrary."