South Sudan's silent slaughter: Dinka massacre unchecked by regional, international groups
It's easy to understand why an ongoing mass murder in the world's poorest country is being ignored: Syria gassing its own citizens, prospects of a North Korea-U.S. clash and Chicago police manhandling a paying United Airlines passenger are impossible to ignore.
But ignored or not, the South Sudan military's ongoing rape and killing of citizens who are not part of the dominant Dinka tribe is very real, according to independent observers who spoke, on condition of anonymity requested for their own safety, to Fox News.
On April 4, government militias loyal to the president, Salva Kiir Mayardit, entered the town of Pajok and began killing and raping men, women and children, one observer said.
Opposition forces led by the former first vice president, Dr. Riek Machar Teny-Dhurgon, estimate that more than 200 innocent civilians were killed in Pajok.
"At the onset of the massacre, the tribal army burned down several buildings in the town and indiscriminately shot at the innocent civilians including kids and women who were trying to run for their lives," a security officer in South Sudan told Fox News.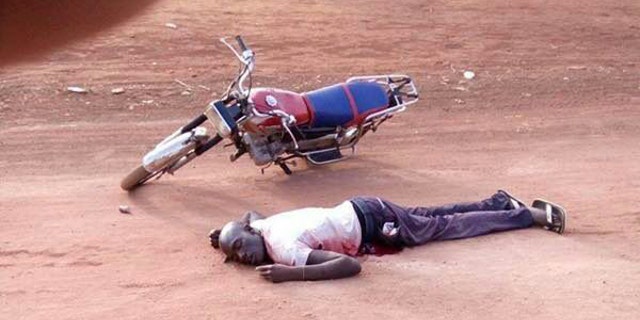 "Primary school pupils were forced to lay on the ground in a straight line and were run over by tanks, and crushing them flat. Some of the primary school girls aged between 11 to 13 years were raped in front of their teacher and the teacher was later murdered by the government soldiers, possibly to conceal evidence of their heinous crimes," an independent observer said.
When a grandmother in her late 70s said she could not tolerate the pain of losing her children and grandchildren, who had been slain in front of her, she begged the soldiers to take her life, too.
"Without remorse, the primitive government soldiers decided to cut her limps, and she was left to die a painful death," the observer said.
No one was spared from the soldiers' wrath, he said, even the tiniest of children.
"Toddlers were thrown into the river live," he said. "The lucky ones had their heads swung against poles and walls before being thrown into the river, at least leaving them dead by the time they have been thrown into the river."
Though largely unknown to most of the world, these atrocities are happening with the full knowledge of international bodies, including the United Nations, the African Union and the Troika, which includes United States, the United Kingdom and Norway, meaning the non-Dinkas are left with no help and no options, the independent observer said.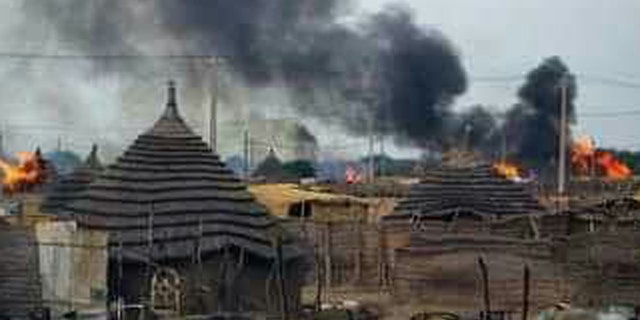 SPLA-IO spokesman Deng said the government is trying to extinguish the non-Dinka South Sudanese.
Government forces are "100 percent committed to exterminating non-Dinka South Sudanese in an effort to declare Dinka, who constitute less than 20% of the total population, as the only recognized citizens of South Sudan," Deng said.
The independent observer agreed, telling Fox News, "Months ago, I warned about looming genocide. It's time to prepare for what is next. God, I wish someone would listen."
Because of limited communications and power, accounts of the atrocities in rural areas of South Sudan have emerged slowly, sometimes days after they are committed.
Lt. Col. Lam Paul Gabriel, a SPLA-IO, confirmed the attack on the civilians in Pajok.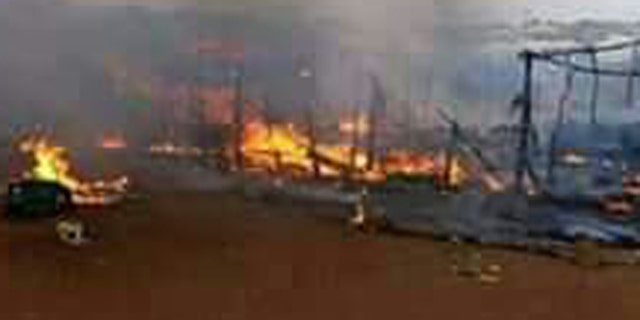 "They slaughtered a community leader and health worker publicly in front of pupils. They raped women and killed many youth and dumped them in the stream, Atepi, last night for fear of discovery," said Gabriel. "They have burned down civilians' houses and looted all they found inside and also killed all livestock, including chickens."
The militia also blocked the Uganda border, which is some five miles to the south of Pajok, and took civilians fleeing to Uganda as hostages and murdered some of them, he said.
The troops raided what they could from the town, Gabriel said, and cut off all electricity and networks so no one could call for help.
The SPLA-IO forces blame a pro-government militia commanded by Major Gen. Gildo Oling for leading the April 4 attack on Pajok.
Five days later another atrocity befell non-Dinkas. On Sunday, April 9, pro-government Mathiang Anyur Dinka mercenaries slaughtered as many as 50 people in the village of Wau, carrying out what residents call ethnic cleansing.
The South Sudan News Agency reported children going to school were killed. "When they find anyone in the road they kill them," one resident told the Associated Press. Another eyewitness added, "Most of those doing it are guys in military uniform, this is clear. You can see they are carrying the flag of South Sudan."
SPLA-IO spokesman Deng said that around 4 p.m. Sunday, "Mathiang Anyoor forces under the command of the notorious coldblooded killer Gen. Thayip Gatluak moved out of Wau to burn down and erase the remaining non-Dinka villages around Wau."
The pro-government militias are currently moving from house to house and killing the defenseless and helpless non-Dinka South Sudanese in the Wau area, he said.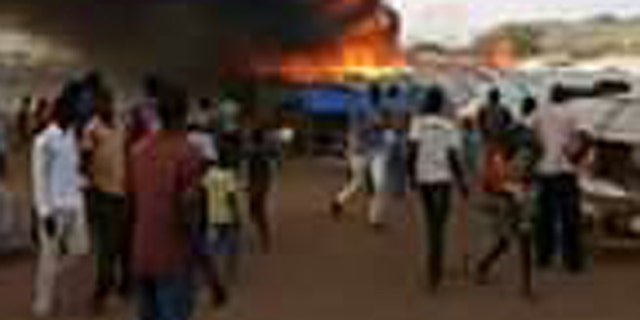 Since South Sudan gained its independence from Sudan, more than 1.7 million South Sudanese refugees and asylum seekers have fled to neighboring countries because of violence, civil wars and famine. According to the United Nations, 100,000 people in South Sudan are facing starvation, and another 1 million people there are on the brink of famine.
Mathiang Anyor militias are planning more attacks and committing further vicious and egregious atrocities and human rights abuses, Deng said.
"The SPLA-IO calls upon the South Sudan neighbors, the region, African Union, the United Nations and the international community to once and for all declare the ongoing killings in South Sudan a genocide, designate the Juba regime a terrorist establishment and treat it as the only one security threat to national, regional and international peace and stability," Deng said.
Jonathan Pedneault, a South Sudan researcher at Human Rights Watch, wrote in Newsweek that the government of South Sudan has consistently denied any wrongdoing in its communications with his organization, despite extensive documentation of horrible crimes over the past three years.
"The people I met in Panyijar county are tired and hopeless. They need food and medicine, that is for sure. But more than anything else; they need us to ensure that the armed parties to the conflict stop attacking them," Pedneault wrote.