South Carolina special election: Norman holds House seat for Republicans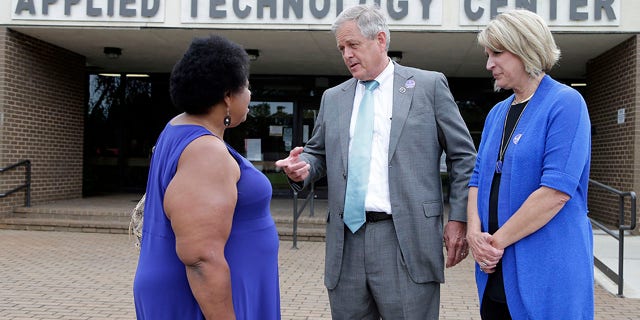 Republican Ralph Norman held off Democrat Archie Parnell in a closer-than-expected race Tuesday to fill the House seat vacated by Office of Management and Budget Director Mick Mulvaney.
With 99 percent of the precincts in South Carolina's 5th District reporting, Norman led Parnell by 51 percent to 48 percent — a margin of just over 2,900 votes out of more than 86,000 ballots cast.
The South Carolina race garnered far less national attention than Tuesday's other special election — Georgia's 6th District, the most expensive U.S. House contest to date. However, national surrogates found time to stump for both candidates, as Texas Sen. Ted Cruz and former South Carolina Sen. Jim DeMint campaigned with Norman. Democratic National Committee Chairman Tom Perez made the rounds for Parnell, a former Goldman Sachs tax adviser.
As they have in other special election contests across the country this year, Democrats recruited a field of candidates to make a play for the GOP-held seat. But the Democratic Congressional Campaign Committee plunked only $275,000 into the South Carolina race, compared with a $5 million investment in the Georgia special election.

Norman, a millionaire real estate developer and state lawmaker, ran a campaign aligning himself with President Donald Trump, who won the district by more than 18 percentage points this past November. He emerged as the top vote-getter from a seven-way GOP primary and defeated state lawmaker Tommy Pope by just more than 200 votes in a runoff.
"Trump is still very popular in our area," Norman said during a recent candidate forum. "His first big decision in putting Neil Gorsuch on the Supreme Court excited the people we're coming into contact with. He proved his mettle."
The 5th District, which stretches north from Columbia toward the suburbs of Charlotte, N.C., had been in Democratic hands for more than 100 years until Mulvaney defeated longtime incumbent John Spratt in 2010. He'd held the seat until February, when he resigned to join Trump's administration.
David L. O'Neal, a retired Army officer and paratrooper from Tega Cay, backed Norman in the primary and said the Republican earned his general election vote in part because of his stance on veterans' issues.

"As a retired military officer, I feel Ralph is strongest on military issues, wanting a strong defense," O'Neal said Tuesday. "And I know he is 100 percent with the veterans on their issues."
The Associated Press contributed to this report.