South Carolina city makes being homeless illegal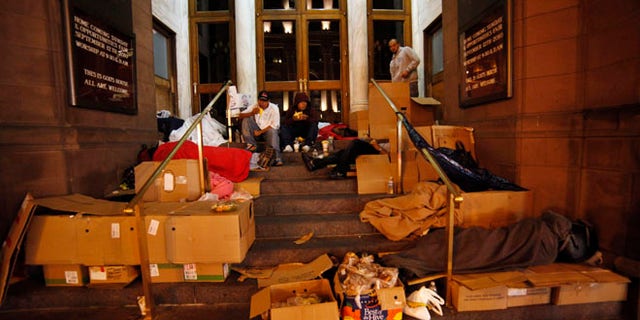 WASHINGTON – South Carolina's capital city is dishing out some southern discomfort following a controversial decision to criminalize its homeless.
On Aug. 13, the Columbia City Council approved a plan that effectively makes homelessness illegal in parts of the city. The proposal forces those who sleep outdoors to be sent to a shelter on the outskirts of town. Those who don't comply will be rounded up and forced to leave or sent to the slammer.
"It's basically a choice between two kinds of jail," Jake Maguire, spokesman for Community Solutions' 100,000 Homes Campaign, told FoxNews.com. "There's jail and then there's the shelter."
He added, "Once you get there, you can't come and go. You are basically brought to a place where you are expected to stay. If you want to go back downtown, you have to get approval for them to shuttle you back."
But Councilman Cameron Runyan, the man behind the proposal, believes moving Columbia's homeless shelter 15 miles from the city's downtown area can cut crime and draw in more businesses and opportunities.
"If we don't take care of this big piece of our community and our society, it will erode the entire foundation of what we're trying to build in this city," Runyan told the council. "What I see is a giant risk to business."
Under Runyan's "Emergency Homeless Response" plan, homeless-looking people in the city's 36-block downtown district will be asked by police to move to a shelter on the outskirts of the Columbia. If a person refuses, they could be arrested on a range of public nuisance laws.
Once at the shelter, the only way to leave is by reserving a shuttle ride. To make sure the homeless don't return, a police officer will be stationed on the road leading to the downtown district to keep the homeless away.
The plan has received support from Columbia's business leaders who say the city's homeless problem has been their eroding economic opportunities for decades.
"As small business owners on Main Street, we see firsthand how the homeless crisis is affecting the city," Jessica and Joe Kastiner, owners of Paradise Ice, told the city council. "Please think of the everyday citizens, the revitalization of Columbia and the safety of everyone."
Columbia attorney Eric Bland agrees.
"The history of the homeless situation in our city is filled with empty promises, confusing rhetoric and lack of accountability," Bland told city officials. "I will be there every step of the way to support this most worthy plan."
Runyan believes he's giving the city's homeless options but Maguire and others believe his plan is flawed because it does not address the root causes of homelessness, tackle permanent solutions or accurately weigh the economic impacts of shuttling the homeless to shelters instead of securing permanent housing.
On average, permanent supportive housing – which includes an apartment and services like rehabilitation – costs around $16,000-$18,000 a year. To keep a person at a shelter for a year costs $22,000, Maguire said.
Maria Foscarinis, the executive director of the National Law Center on Homelessness and Poverty, called Columbia's plan "an extreme, highly disturbing example."
But Columbia is not alone. This summer, Portland, Ore., and Tampa, Fla., also initiated steps to boot out their homeless.
Portland's Mayor Charlie Hales announced last month he was fed up with the growing number of homeless people camped outside the steps of City Hall and vowed to use the law to crack down on the practice. Portland prohibits "camping" on public property.
Last week, five homeless residents were rounded up and arrested, and the mayor's office says that's just the beginning.
Following those arrests, Portland police promised to start rigorously enforcing the city's camping ban everywhere. There are an estimated 1,700 homeless in Portland.
Dana Haynes, a spokesman for Hales, said the city is arming Portland police with a list of places where the homeless are known to sleep or "camp" at night.
The Tampa City Council passed a new ordinance 4-3 in July that would allow police officers to arrest anyone they see sleeping in public or "storing personal property in public."
According to a 2012 homeless study by the U.S. Department of Housing and Urban Development, five states account for nearly half of the nation's total homeless population. They are: California, New York, Florida, Texas and Georgia.
The 2012 Point-in-Time Estimates of Homelessness study also found that among mid-sized cities, Tampa and its surrounding area had the highest number of homeless individuals at 7,419.
During the 1990s, then New York City Mayor Rudolph Giuliani planned to remove homeless people from shelters if they refused to work. New York City cops also started handing out $76 citations to the homeless who "camped in public."