South Carolina authorities investigating injury to congressman's niece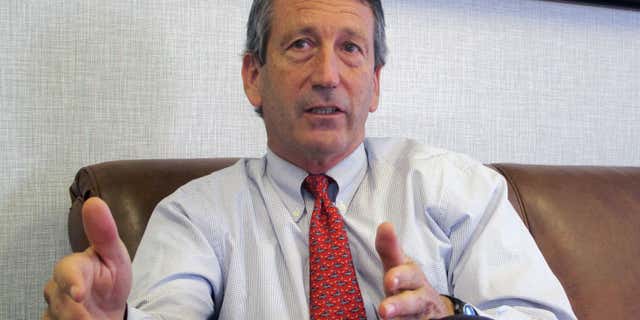 NEWYou can now listen to Fox News articles!
BEAUFORT, S.C. – The South Carolina Law Enforcement Division is investigating after U.S. Rep. Mark Sanford's niece's foot was apparently injured in an incident involving the congressman.
A Beaufort County Sheriff's Department report shows the injury occurred on a dock at Coosaw Plantation, the Sanford family farm, June 18. But the report, in which many of the details are blacked out, did not specifically describe the injury or who contacted deputies.
The report did say an unidentified complainant requested a meeting with law officers regarding the incident and that it involved Sanford.
While South Carolina governor, Sanford disappeared for five days in 2009, telling his staff he was hiking the Appalachian Trail. On his return he confessed he had been in Argentina with a woman who later became his fiancee. After two terms as governor, he was elected again in 2013 to the congressional seat he held in the 1990s.
John Sanford, Sanford's brother and the girl's father, issued a statement to the media on Monday saying any suggestion Sanford would hurt his daughter's foot or any of his children is "absolutely wrong."
The statement added that "I am sorry that because my brother is a public figure he is being swept into allegations that are not true."
Sanford said he stands by his brother's statement.
A sheriff's department spokesman says the state was asked to investigate to avoid a conflict of interest because both Sanford and the sheriff have ties to the local Republican Party.
"We are conducting a preliminary inquiry," SLED spokesman Thom Berry said in an email. "We are looking at the facts submitted to us by Beaufort County Sheriff's Department to determine if a criminal violation may have happened."
The incident report said that deputies subpoenaed medical records from a local pediatrician and that the case is being closed because it was being turned over to state investigators.
The incident happened four days after Sanford, who represents South Carolina's 1st District, defeated state Rep. Jenny Horne of Summerville in the GOP primary in the district that runs along South Carolina's south coast from Charleston to the Georgia state line.
The Island Packet reports that Coosaw Plantation was also the site of an accidental drowning five years ago.
The newspaper reported that two years ago John Sanford and his wife settled a lawsuit with the family of a 6-year-old child who drowned at a birthday party that the couple was hosting.