Small fire, suspicious vehicle place White House on temporary lockdown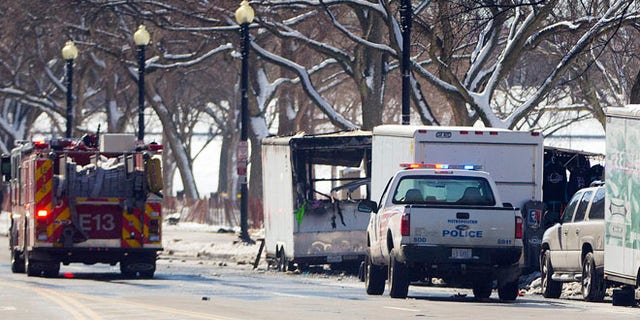 The White House was put on temporary lockdown Saturday morning after reports of a small fire and a suspicious vehicle in the vicinity.
The incidents briefly delayed the departure of President Obama and the first family to Selma, Ala., for a historic 50th anniversary march.
Reporters at the White House heard a loud noise from the vendor cart fire before they were led back inside the complex.
The cart caught fire at about 10 a.m. on the corner of at 15th and G streets, said Secret Service spokesman Brian Leary.
Firefighters responded and contained the blaze. D.C. fire and EMS officials said one patient was evaluated but not hospitalized.
At about the same time, a bomb-sniffing dog detected something on a nearby vehicle. The vehicle was checked out by the Secret Service and other officers, Leary said.
The car, at 16th Street and Constitution Avenue, was cleared at 11:48 a.m. and streets around the White House were reopened at about noon.
Fox News' Wes Barrett and The Associated Press contributed to this report.