Sheriff Arpaio armed with huge war chest as he faces challenges, controversy in re-election bid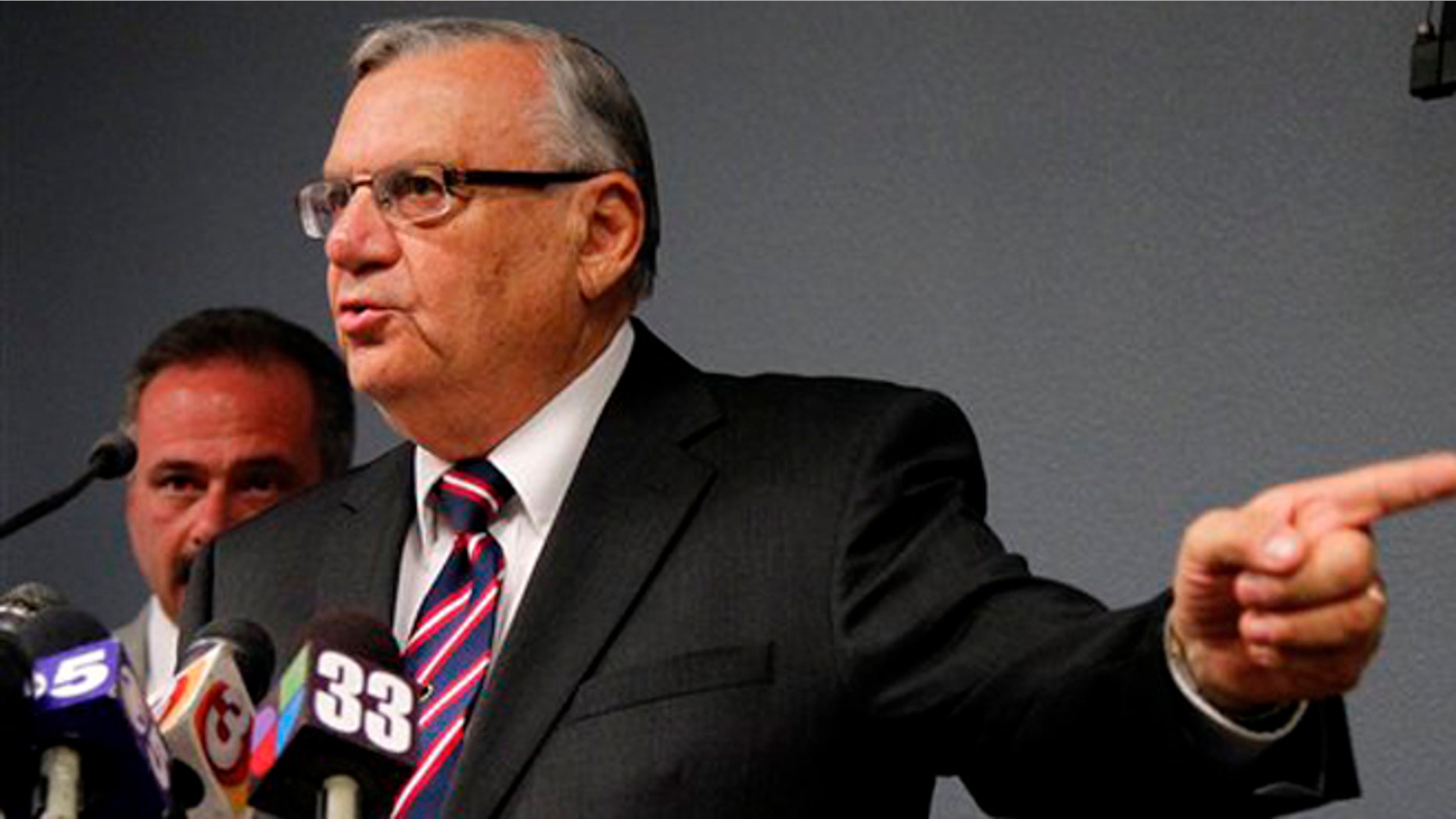 Arizona Sheriff Joe Arpaio is as embattled as ever – facing multiple lawsuits, Hollywood and a field of challengers vying to unseat him in November. But the sheriff whose tough stances on illegal immigration and criminal punishment have sparked nationwide controversy has one big advantage in his re-election bid -- a nearly $7 million war chest.
The money far exceeds that raised by the independent and two Democrats trying to keep the Republican sheriff from winning a sixth term in Maricopa County, which includes Phoenix and is the state's largest and most populated county.
Most of the 80-year-old Arpaio's money comes from outside of Arizona, a fact that is neither a surprise nor a fact his campaign tries to downplay.
"The sheriff has always enjoyed support from people who live outside our state," Arpaio campaign manager Chad Willems told FoxNews.com. "Those people said what the Justice Department is doing is wrong. They wrote checks to say this is wrong. But the sheriff's No. 1 supporters have always been Arizona residents."
The most recent fundraising records show that Arpaio's $6.8 million in campaign contributions include $3.4 million cash on hand, with much of the money reportedly coming from roughly 12,000 out-of-state donors.
Arpaio's toughest challenger likely will be Paul Penzone, a Democrat and former Phoenix police sergeant who must first advance in the party's Aug. 28 primary against John Rowan, a ex-New York City police officer.
"Paul is well known and knows police work," said Frank Camacho, communications director for the Arizona Democratic Party. "He's bright, young and energetic. He brings something new to Maricopa County in terms for professionalism, something we've been lacking for at least 10 years."
Penzone has raised more than $140,000 this campaign cycle, compared to less than $1,200 for Rowan, according to country records dated June 30.
Independent Mike Stauffer, another police officer, has raised roughly $6,000 and has borrowed nearly $40,000.
The self-styled "America's Toughest Sheriff" stirred controversy shortly after taking office, instituting voluntary chain gangs in 1995 and making inmates wear pink underwear and live in a "tent city."
But Arpaio is most associated with what is known as SB1070 – state legislation that when signed by GOP Gov. Jan Brewer in 2010 became the toughest illegal immigration effort in U.S. history.
The most controversial provisions include one allowing officers during routine stops to try to determine a person's immigration status, which has led to lawsuits, including one filed in May by the Justice Department.
The Supreme Court made a ruling in June that upheld the major provision of the state law, which allows immigration checks during routine stops.
However, the Department of Homeland Security following the high court's decision pulled back on a program known as 287(g), which allows the feds to deputize local officials to make immigration-based arrests.
Meanwhile, a civil suit alleging racial profiling began Thursday in a federal court in Arizona. The suit, filed by a group of Hispanics, argues Arpaio's deputies engaged in racial profiling as part of their patrols. The sheriff's lawyer is arguing that stops were made only because deputies had probable cause that a crime was committed and learned only afterward that some of those pulled over were illegal immigrants. Arpaio is expected to testify this week.
Also last week, the outspoken Arpaio challenged TV star George Lopez to come to Arizona and repeat "face to face" the disparaging remarks Lopez made about him during a stand-up comedy routine. And Arpaio staged a press conference on the eve of the civil suit in which he again argued that President Obama's birth certificate is invalid.
Despite his history of controversy, Arpaio and his war chest will be tough to beat, considering he has often won by double digits and in 2008 took 55 percent of the vote against his Democratic challenger.
"You cannot compete with Arpaio's money," Camacho told FoxNews.com last week. "But we will use social media and do it the old-fashion way, shoe leather politics. Pounding the pavement, that's the only way to do it."
Willems would not speculate on what impact the civil suit will have on his candidate's re-election efforts, saying only that he'll "leave that to the voters to decide."
He also declined to talk about strategy, but said the voters are likely more interested in the fact Arpaio has cut the crime rate by double digits and that the campaign will become more "aggressive" after the primary.
"We'll take the message to the voters," he said. "Voters in this county are smart enough to figure that out."