'Shameful': Local DC officials lose cool with Dem leaders over partial shutdown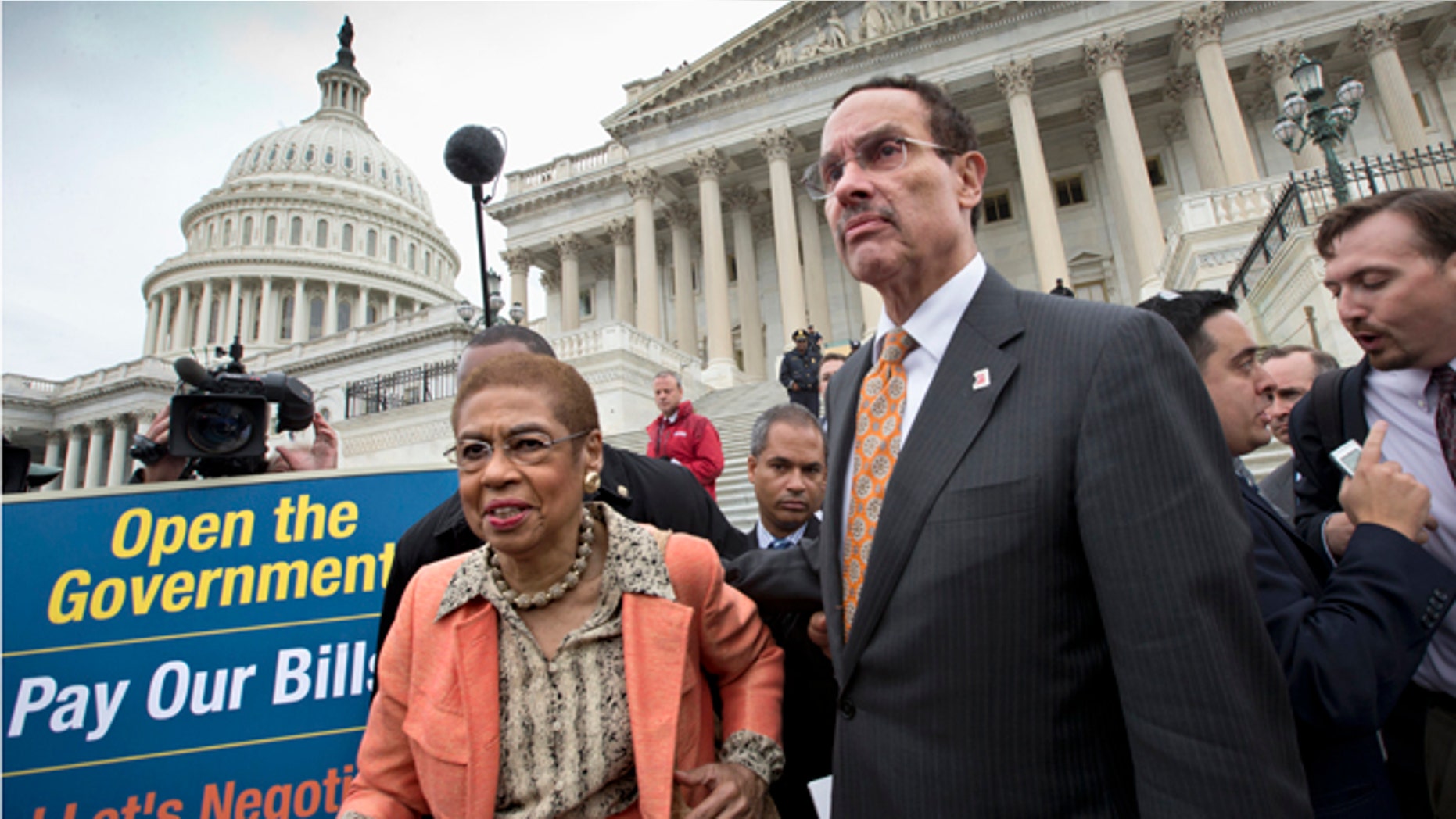 Democratic leaders who run the District of Columbia are rapidly losing patience with their Democratic colleagues in Congress and the White House, lashing out at them over the partial government shutdown and questioning their overall strategy.
The District already is dealing with lost tourism revenue, as some would-be visitors change vacation plans, knowing that D.C.'s top attractions like the Smithsonian museums are closed. But unlike other cities, Washington, D.C., also is not allowed to spend locally raised funds during the partial shutdown -- due to its unique status as federal district. City leaders have campaigned to have that restriction lifted, but so far only the Republican-led House has voted to allow it.
The impasse has D.C. Democrats suddenly on the side of Republicans, and publicly challenging Democrats.
The tension came to a head on Wednesday, when D.C. Mayor Vincent Gray crashed a Senate Democrats' press conference on Capitol Hill. Gray was attending a nearby rally when he marched over to the Senate Democrats' event, in turn getting into a confrontation of sorts with Senate Democratic Leader Harry Reid.
Reid was caught on camera telling Gray: "I'm on your side. Don't screw it up."
According to MyFoxDC.com, asked afterward what Reid meant by that, Gray said: "I have no idea."
Gray -- who plans to deliver an address in Washington, D.C., about the partial shutdown on Thursday evening -- could also be heard getting in a confrontation with Democratic Sen. Barbara Boxer of California.
"We've got to open up this government," she said.
Gray shot back: "We're not a department of the government. ... We're just asking to spend our own money."
Boxer said: "Open up the government. Why don't you support opening up the government?"
Democrats from President Obama on down generally argue that Congress should not take a "piecemeal" approach to opening up certain parts of the government, but should instead pass a catch-all spending bill.
Obama applied that logic to the House bill that would have let D.C. spend its own money; Obama issued a veto threat last week. That approach is now under fire.
D.C.'s non-voting delegate, Eleanor Holmes Norton, personally confronted Obama about the decision on Wednesday during a White House meeting attended by House Democrats.
Sources told Fox News that Norton raised some eyebrows with the exchange, with one calling it "inappropriate." She apparently interrupted the president several times.
Norton told Fox News that she merely told Obama "the city is running out of its contingency funds."
She said she was respectful. She acknowledged most members "listen patiently" to the president in these meetings without talking, "but they're not in the same position as I am in ... a big city that is running out of money."
At the rally, Norton said: "It is shameful now to hold the city's local funds to make a federal point."
According to The Washington Post, the District has tapped a contingency reserve fund but the account could be exhausted next week.
However, it's unclear whether Congress and the White House might be able to reach a deal to pass a spending bill by then. House Republicans are floating a plan to allow for a short-term increase in the debt ceiling, but it would not directly address the partial government shutdown.
Amid the impasse, D.C. officials have found an unlikely ally in Republican Rep. Darrell Issa, who joined them for their rally on Wednesday.
"These taxes are paid by the District of Columbia" and "entrusted to your elected officials," he told D.C. residents.
The impact on Washington tourism is also a factor. Though many tour groups and conventions are still going forward as scheduled, some have reported a dip in traffic.
D.C. tourism organization Destination D.C. reports that last week, hotel occupancy was down about 9 percent from the year prior.
"It's pretty evident that at least some of that had to do with the shutdown," spokeswoman Sarah Maciejewski said, adding: "There's still a lot of people coming" to see other parts of the city.
Click for more from MyFoxDC.com.
Fox News' Chad Pergram contributed to this report.