Senators Spar Over Afghanistan Troop Drawdown as Transition Looms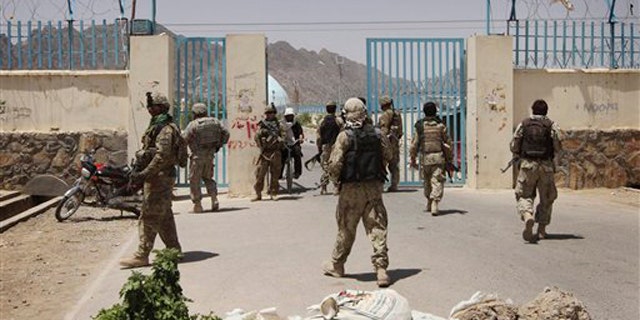 NEWYou can now listen to Fox News articles!
Tensions over troop levels in Afghanistan spilled over into a second day on Capitol Hill, as senators prodded President Obama's defense secretary nominee on whether the administration is planning a major troop drawdown starting next month.
Obama has pledged to begin withdrawing troops in July, with the goal of pulling all combat soldiers out by the end of 2014. Lawmakers are increasingly jittery about what that opening phase will look like. As with Iraq, some warn a drawdown too precipitous could embolden the enemy; others worry U.S. involvement in Afghanistan has reached a point of diminishing returns and want U.S. troops to come home as soon as they can.
The two top members of the Senate Armed Services Committee sparred over the issue Thursday, as CIA Director Leon Panetta testified for his nomination to replace outgoing Defense Secretary Robert Gates. Though Panetta wouldn't bite, both Chairman Carl Levin, D-Mich., and ranking Republican Sen. John McCain, R-Ariz., tested the nominee on what kind of drawdown he favors.
McCain, who has called for an initial withdrawal of no more than 3,000 troops, pressed Panetta on whether that early stage should be "modest."
Panetta said it should be "conditions-based," but deferred to the president, as well as Gates and Gen. David Petraeus, who is in line to take his job at CIA if confirmed. Pressed again by McCain, Panetta said he'd have to "arrive at a decision myself" if confirmed.
Panetta was similarly vague when asked by Levin whether the drawdown should be "significant."
Levin is calling for an initial drawdown of at least 15,000 troops. That call has drawn criticism from his more hawkish colleagues. McCain told Politico Wednesday that withdrawing 15,000 troops -- out of 100,000 in the country -- would be appropriate "if you want to lose."
Sen. Lindsey Graham, R-S.C., also said Levin's recommendation went too far.
The drawdown dispute was also on display Wednesday, as senators screened Ryan Crocker for the job of U.S. ambassador to Afghanistan.
Crocker, who served in Iraq, said the U.S. should not walk away from Afghanistan as it did in 1989.
But Sen. Chris Coons, D-Del., challenged him.
"If we're not going to walk away, how long are we going to stay and at what level?" Coons said.
"I'm not ducking by saying that, you know, I just don't know the answer now," Crocker responded.
The administration is also under pressure following a congressional report that questioned whether the billions in foreign aid spent on Afghanistan is being put to good use. Sen. Claire McCaskill, D-Mo., said Thursday that she doesn't think the Afghans can afford in the long run the infrastructure and security force the United States is working to build.
On Thursday, Panetta reflected the statements of the president in claiming that significant progress has been made in Afghanistan, while calling that progress "fragile and reversible."