Senators Rubio, Cruz And Menendez Say They Support Israeli Military Offensive In Gaza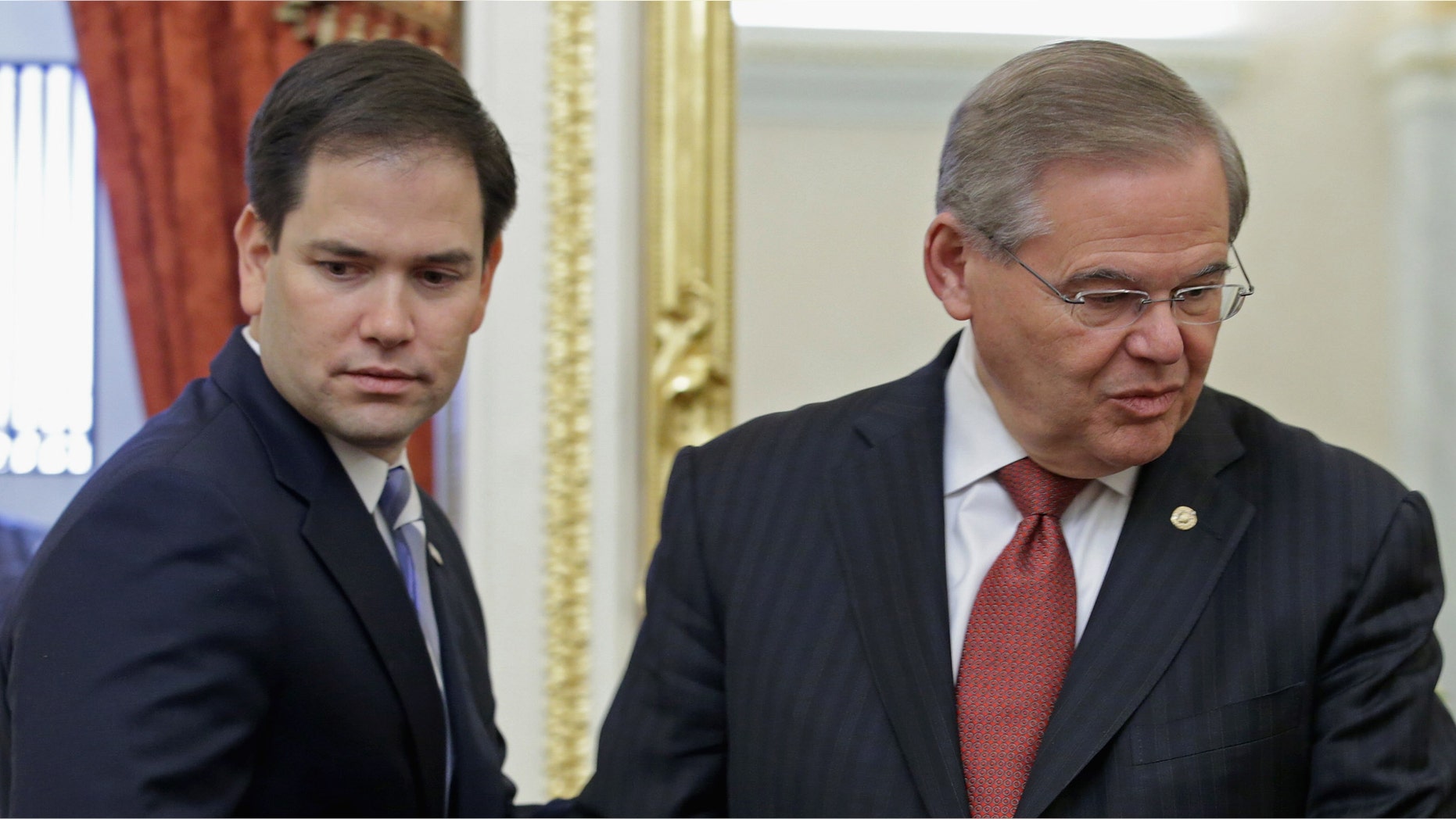 Some of Congress' most high-profile Latinos said they support Israel's military offensive in the Gaza Strip as a response to rocket fire by Palestinian militants.
"Israel has a right to self-defense in the face of indiscriminate violence and vicious attacks against civilian populations," said Sen. Robert Menendez, D-N.J., chairman of the Senate Foreign Relations Committee. "It is an appalling but often-used tactic by Hamas to launch rockets indiscriminately at Israeli population centers."
"Nobody should be surprised that a terrorist organization is once again resorting to terror to harm innocent Israelis, and exposing Palestinian civilians to danger while doing so," Menendez said. "Hamas is a terrorist organization that rejects a two-state solution and celebrates the kidnapping and murder of innocent civilians; it cannot be a partner in a Palestinian unity government."
Menendez, along with fellow senators Lindsey Graham, South Carolina Republican, Kelly Ayotte, New Hampshire Republican, and Chuck Schumer, New York Democrat, in recent days introduced a resolution expressing support for the State of Israel in the current conflict.
Republican senators Marco Rubio of Florida and Ted Cruz of Texas have also expressed support for Israel's offensive.
Israel launched the offensive on Tuesday in response to weeks of heavy rocket fire out of Gaza.
At least 103 Palestinians, including dozens of civilians, have been killed, according to the Palestinian Health Ministry in Gaza. Palestinian militants have fired more than 600 rockets at Israel.
One rocket fired from the Gaza Strip struck a gas station and set it ablaze earlier Friday in southern Israel, seriously wounding one man, and the army said the condition of a soldier wounded by rocket shrapnel on Thursday had worsened. But there have been no deaths on the Israeli side, in large part because of a new rocket-defense system that has intercepted more than 100 incoming projectiles.
"The Israeli government has shown great restraint, and went to great lengths to try to avoid this confrontation," Rubio said. "However, Hamas was intent on starting this conflict."
"No country should be expected to put its citizens through the situation that millions of Israelis face. Israel has the right to take actions to defend its people, including striking rocket launch sites and the leadership of Hamas."
Israeli Prime Minister Benjamin Netanyahu said he has been in touch with numerous world leaders, including President Barack Obama and the leaders of Britain, France, Germany and Canada.
He said he had "good discussions" with his counterparts, telling them that no other country would tolerate repeated fire on it.
Israel's allies have backed the country's right to self-defense, but they have called for restraint. U.N. Secretary-General Ban Ki-moon has expressed concern about the heavy civilian casualties in Gaza, and on Friday, the U.N.'s top human rights official said the air campaign may violate international laws prohibiting the targeting of civilians.
"We have received deeply disturbing reports that many of the civilian casualties, including of children, occurred as a result of strikes on homes," said Navi Pillay, the U.N. high commissioner for human rights.
"Such reports raise serious doubt about whether the Israeli strikes have been in accordance with international humanitarian law and international human rights law," she said.
For his part, though, Netanyahu said: "No international pressure will prevent us from acting with all power."
Cruz this week filed legislation to offer a reward of up to $5 million for information on or the capture of the Hamas terrorists who kidnapped and murdered Naftali Fraenkel, an Israeli-U.S. citizen, last month.
"No one doubts Israel's ability to carry out this mission, but given Naftali's citizenship, I believe the United States should demonstrate our clear support for Israel by offering a reward as we traditionally have in terrorist attacks involving Americans," Cruz said in a statement. "This support should be understood in the context of our partnership with the nation of Israel in the fight against radical Islamic terrorism, which is our fight as well."
The Associated Press contributed to this report.
Follow us on twitter.com/foxnewslatino
Like us at facebook.com/foxnewslatino