Senators Clash Over Linking Boston Bombings To Immigration Reform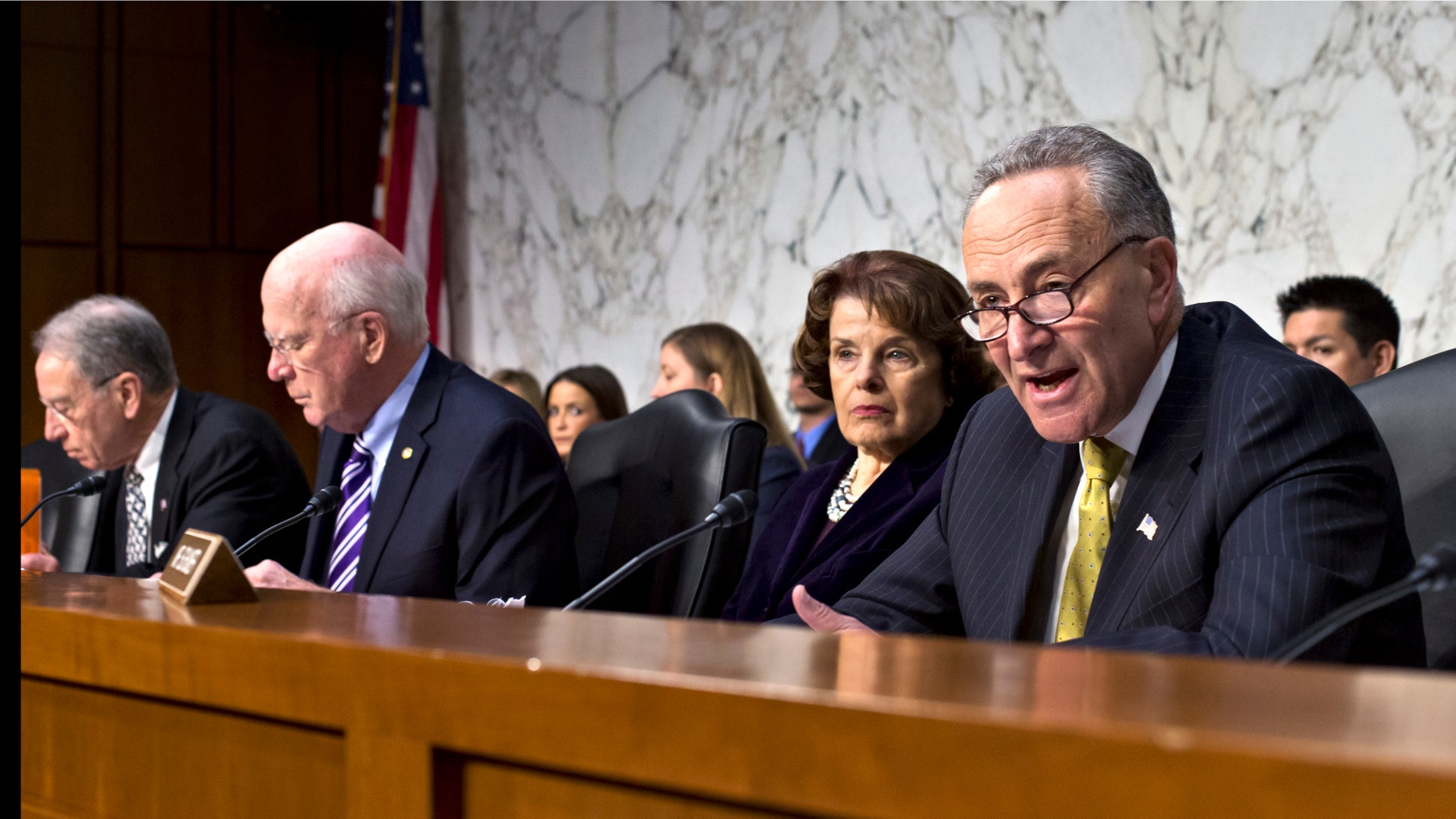 The Boston bombing emerged as a point of contention Monday during a Senate hearing on a bipartisan immigration reform bill.
Sen. Chuck Schumer, D-N.Y., suggested that some of his colleagues were exploiting the bombings – in which two brothers, one of whom is now dead and the other is hospitalized – to sabotage the bill.
"I never said that! I never said that!" Sen. Chuck Grassley, R-Iowa, interjected as Schumer suggested that some were using the Boston bombings as "an excuse" to slow down or stop the bill.
Schumer said he wasn't talking about Grassley, who said last week that the bombings raised question about gaps in the U.S. immigration system that should be examined in context of the new bill.
Meanwhile Sen. Jeff Sessions, R-Ala., accused Schumer of "demeaning" several witnesses called to Monday's Judiciary Committee hearing by the GOP side. Schumer had complained about Sessions saying that business and labor officials backing the Democratic side on immigration were "special interests," noting that the immigration bill has widespread support and asserting that the three witnesses scheduled to testify against the bill were "far more special interest."
Senate Judiciary Chairman Patrick Leahy, D-Vt., banged his gavel to settle the proceedings.
The exchange came as the Judiciary Committee opened its second hearing on sweeping legislation to strengthen border security, allow tens of thousands of new high- and low-skilled workers into the country, and provide an eventual path to citizenship for some 11 million immigrants now here illegally.
As with the first hearing Friday, the Boston Marathon bombings cast a shadow over the proceedings. The attacks were carried out by two ethnic Chechen immigrant brothers; both arrived legally and one was a naturalized U.S. citizen.
The hearing was underway as one of the brothers, Dzhokhar Tsarnaev, was charged by federal prosecutors in his hospital room Monday with using a weapon of mass destruction to kill - a crime that carries a possible death sentence.
Officials have said Tsarnaev, 19, and his older brother set off the twin explosions at last week's race that killed three people and wounded more than 180. His brother, Tamerlan, 26, died Friday after a fierce gunbattle with police.
Relatives of the brothers say that the older brother, Tamerlan Tsarnaev, held sway over the younger one, Dzhokhar Tsarnaev.
Dzhoklhar became a naturalized U.S. citizen on Sept. 11 of last year. His brother apparently had applied for citizenship, also, but his application was on hold because of information in his file that the FBI had investigated him at the behest of Russian officials.
Sen. Dianne Feinstein said she wants to know what the FBI learned when it interviewed Boston Marathon bombing suspect Tamerlan after his six-month stay last year in the Russian provinces of Dagestan and Chechnya.
The FBI had been tipped off a year earlier by Russian officials that the older brother was worth investigating for possible extremist ties.
The brothers' parents have insisted that Tamerlan came to Dagestan and Chechnya last year to visit relatives and had nothing to do with the militants operating in the volatile part of Russia. His father said he slept much of the time.
Leahy used part of his opening statement to chastise those who would link the bombings to the legislation. "Let no one be so cruel as to try to use the heinous acts of these two young men last week to derail the dreams and futures of millions of hardworking people," Leahy said.
He said the bill would strengthen national security by focusing on border security and enforcement.
Grassley bridled at Leahy's comments, saying that when Leahy proposed gun legislation, "I didn't accuse you of using the Newtown killings as an excuse."
"I think we're taking advantage of an opportunity where once in 25 years we deal with immigration to make sure that every base is covered," Grassley said.
Sen. Rand Paul, R-Ky., raised similar concerns in a letter Monday to Senate Majority Leader Harry Reid, D-Nev., telling him, "We should not proceed until we understand the specific failures of our immigration system."
Paul also said that national security protections must be part of any immigration legislation to ensure the federal government does everything it can to keep immigrants "with malicious intent" from using the immigration system to enter the country to commit acts of terror.
House Speaker John Boehner, R-Ohio, also weighed in on the matter Monday, telling an interviewer on Fox News' "American Newsroom", "I'm in the camp of, if we fix our immigration system, it may actually help us understand who all is here, why they're here, and what legal status they have."
Based on reporting by The Associated Press.
Follow us on twitter.com/foxnewslatino
Like us at facebook.com/foxnewslatino