Senate Candidate Greene Defends Military Records That Reveal Subpar Performance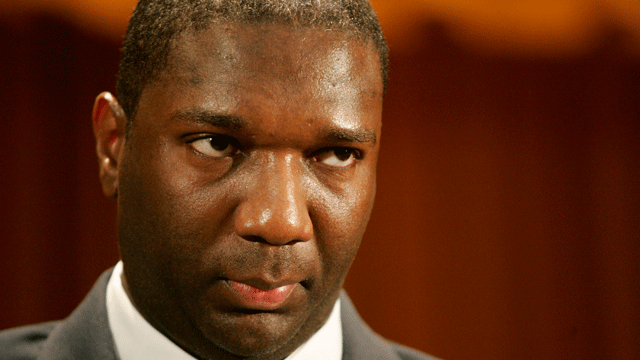 Alvin Greene, the out-of-nowhere Democratic candidate for U.S. Senate in South Carolina, is pushing back against a new report that reveals he received low marks for his military service and casts doubt on his claim of being an "American hero."
Records obtained by The Associated Press show that Greene was considered a lackluster service member at best and was denied two promotions. The records cite mistakes as severe as uploading sensitive information improperly, and as basic as an overall inability to clearly express his thoughts and perform basic tasks.
But Greene, whose surprise victory in the June 8 Democratic primary has drawn national attention, told FoxNews.com that the military brass discriminated against him and instead promoted "terrorists and communists."
"We need an overhaul of the military leadership and in the government," Greene said in an animated voice that contrasted with his calm demeanor in previous interviews. "We need a lot of work done."
Greene, 32, left the U.S. Air Force in 2005, six months after his second promotion request was denied. He later served in the U.S. Army before he left the military last year. Greene often mentions his service, but he has refused to go into detail.
In an interview Thursday, he dismissed the mistakes cited in his records as "ridiculous exaggerated nonsense."
"It's discrimination," he said. "We need to do better. We need to overhaul the military."
When asked about the terrorists and communists that he said the military promoted over him, he said he was referring to Maj. Nidal Malik Hasan, the suspected shooter in the Fort Hood rampage last November, and Europeans, noting that citizens of other countries can serve in the U.S. military.
"These fools can just come in and just destroy everything," he said.
Greene told FoxNews.com that he received no promotions after he graduated from college, but he claimed that if he had had the same background as Hasan, he probably would have had his rank.
He said would characterize his military performance as "satisfactory," and he disputed any notion that his military records undermine his claim of being an "American hero."
"I still had honorable service. All of my service is honorable," he said, adding that he was able to get into the Army after his poor performance review from the Air Force.
Greene also took a shot at his opponent in the November election, Republican Sen. Jim DeMint, who is expected to win easily.
"My opponent has no military service," Greene said. "He doesn't care about South Carolina and he doesn't care about the United States of America. And we can't afford six more years of his doing nothing for the people of South Carolina."
In the weeks since Greene handily defeated former lawmaker and judge Vic Rawl in the Democratic primary, he has given a series of awkward interviews to reporters clamoring for more information on the unemployed man who lives with his ailing father. In one interview, he suggested that the state's economy could be improved by making and selling action figures depicting him in his uniform. On Sunday, Greene gave his first public speech, a 6 1/2-minute recitation of his previous comments and commitment to jobs and education. He now has a website, and he says he has raised less than $1,000.
Greene has often mentioned his military service, saying he came up with the idea to seek political office while serving in South Korea. But he has refused to go into detail about his service, merely saying he won numerous decorations and left the military honorably but involuntarily.
The records obtained by AP reveal only a small slice of Greene's service record -- his three years in the Air Force. After serving in junior ROTC in high school, Greene entered the Air National Guard in 1995 and served there until 2002.
In July of that year, he entered the Air Force, serving first as an intelligence librarian responsible for analyzing reports and briefings at Shaw Air Force Base, near Sumter, S.C.
In a performance report two years later, Greene received adequate marks for performing tasks assigned to him, complying with standards and training requirements. But Greene's reviewer marked him as an ineffective leader who lacked organization and was "unable to express thoughts clearly."
Greene is "usually capable of handling mundane tasks with supervision" but is "not able to adapt to any changes to daily routine," the reviewer wrote. The reviewer also noted that Greene had received multiple disciplinary actions for failing to perform his duties.
Greene was also written up for posting sensitive information on a military Internet server, a mistake that resulted in a three-day work stoppage. Records showed Greene was kept at Shaw when the rest of his unit deployed after leadership "recognized his inability to contribute to the wartime mission."
Greene protested the denial, writing that the reviewer "only concentrates on presenting a negative perception of me by making false statements of my character" and saying the reviewer and other airmen "create a hostile work environment."
A year later, Greene was evaluated again, this time in his new job as an analyst working with the weapons of mass destruction section. But Greene's job had little to do with intelligence analysis and more to do with shredding documents and escorting contractors around the base.
Again receiving low marks for ineffective leadership, Green also was rated as not knowing much about his duties or performing them effectively and not complying with minimum training requirements.
The reviewer also wrote Greene "required a daily to-do list" to perform basic duties and had a "consistent inability to follow instructions or maintain basic job knowledge." Most seriously, the reviewer wrote that Greene would represent "a threat to others" because of his inability to grasp the basics of military training.
In additional comments, the reviewer said she would not recommend Greene for promotion but did note his community service work and fundraising efforts for a holiday party. "While Alvin is a decent person, he lacks the basic skills necessary for promotion," the summary said.
Greene also objected to that appraisal, writing that corruption to his computer "can often make it impossible for me to accomplish tasks in a timely fashion" and said another airman "cursed me out and told me I am wanted out."
Six months after that evaluation, Greene was honorably discharged from the Air Force. A year later, he joined the Army National Guard, in which he served about six months before joining the U.S. Army.
Detailed records of Greene's Army service have not been released.
The Associated Press contributed to this report.