Sen. Susan Collins apologizes to Rep. Blake Farenthold for calling him 'fat' and 'unattractive'
Sen. Susan Collins, R-Maine, apologized to Rep. Blake Farenthold, R-Texas, after she was caught on a hot mic making derogatory comments about Farenthold at the end of a Senate hearing Tuesday.
"Neither weapons nor inappropriate words are the right way to resolve legislative debates," Collins said in a statement Tuesday to CNN. "I received a handwritten apology from Rep. Farenthold late this morning. I accept his apology, and I offer him mine."
In a statement to the Washington Examiner earlier Tuesday, Farenthold had no comment on Collins' statements.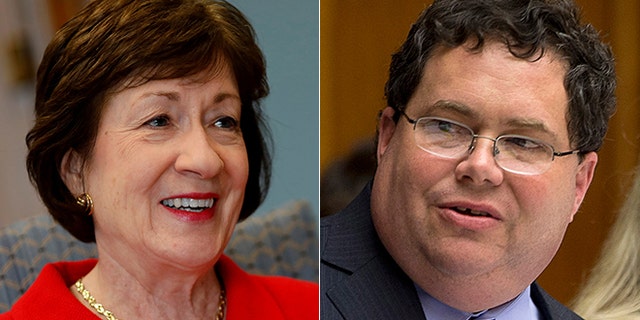 Collins issued her apology after she was heard telling Sen. Jack Reed, D-R.I., that Farenthold is "so unattractive it's unbelievable" after a Senate Appropriations subcommittee hearing Tuesday.
"Well, fat guy. He's huge," Collins told Reed. "He's so … he's so unattractive, it's unbelievable. Did you see the picture of him in his pajamas next to this bunny, this Playboy bunny?"
Collins and Reed were discussing comments Farenthold made in an interview with a Texas radio station, during which Farenthold blamed the Senate's failure to pass a bill repealing and replacing Obamacare on "some female senators from the Northeast" and said he would've challenged any opposing senators to a duel had they been men from his home state of Texas.