Sen. Schumer Says Republicans Want Immigration Reform – But Don't Want To Vote On It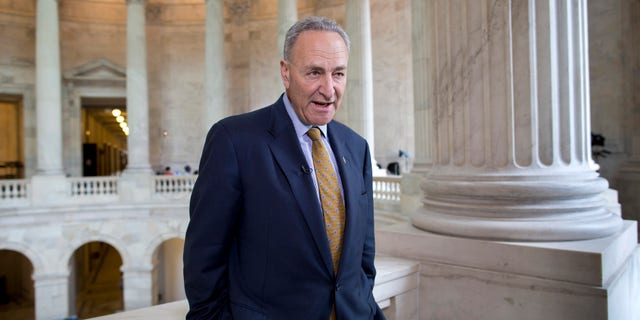 U.S. Sen. Charles Schumer, a Democrat who was part of bipartisan group that drafted a comprehensive immigration reform bill last year, says that Republicans really would like to see such a measure pass in Congress, though individually they don't want to vote on it.
The Senate bill, a sweeping measure that includes tightening border security, expanding foreign worker visas, and providing a path to citizenship for undocumented immigrants who pass a strict set of criteria, passed in June.
But the effort stalled when the issue moved to the House of Representatives, where a group of mostly conservative Republicans, who hold the majority, vowed not to approve any measure that allowed undocumented immigrants to legalize their status. They said it would be tantamount to rewarding lawbreakers.
In an interview on Monday with MSNBC, Schumer, who is from New York, said: "Most people are for immigration reform. Most Republicans, they're in the vote-no, pray-yes caucus, they want it to pass as long as they don't have to vote for it. I still think we have a chance to pass it this year."
Schumer said that other Republicans in the House support comprehensive immigration reform, and that he remains confident that a bill will move forward this year.
He speculated that the summer, when Tea Party primaries will have ended, is when immigration reform stands the best chance of gaining traction in Congress.
Schumer said many Republicans realize they need to move a reform bill forward to avoid being blamed at election time as the reason that nothing was done about the flawed immigration system.
"The leadership of the caucus realizes one thing, they won't do it in 2015, because you have the Republican primaries pulling to the right," Schumer said on MSNBC. "And [not doing it] most certainly means they're going to lose in 2016."
Schumer said that former Florida Gov. Jeb Bush and House Speaker John Boehner, an Ohio Republican, are examples of GOP members who are open to overhauling immigration laws in such a way that tightens enforcement but also provides a path to legal status.
On Sunday, Bush, a prospective 2016 presidential candidate, said in an interview with Fox News Channel that those who come into the country illegally generally do so because they had no other means to provide for their family, and what they did is "not a felony."
"It's an act of love. It's an act of commitment to your family," Bush said. "I honestly think that that is a different kind of crime. There should be a price paid, but it shouldn't rile people up that people are actually coming to this country to provide for their families."
Schumer said about Bush: "He's showing where people are at…Jeb Bush represents the more positive wing of the Republican Party…We have a good chance of passing it this year. Speaker Boehner wants to do it."
Earlier this year, Boehner unveiled a non-binding set of immigration "principles" that, among other things, calls for allowing people who are in the United States unlawfully to legalize their status. But later Boehner seemed to back away from the document, saying that many Republicans were reluctant to pass comprehensive immigration reform because they do not trust President Barack Obama to enforce immigration laws.
Follow us on twitter.com/foxnewslatino
Like us at facebook.com/foxnewslatino