Sen. Reid Called Gov. Blagojevich to Discuss Filling Obama's Senate Seat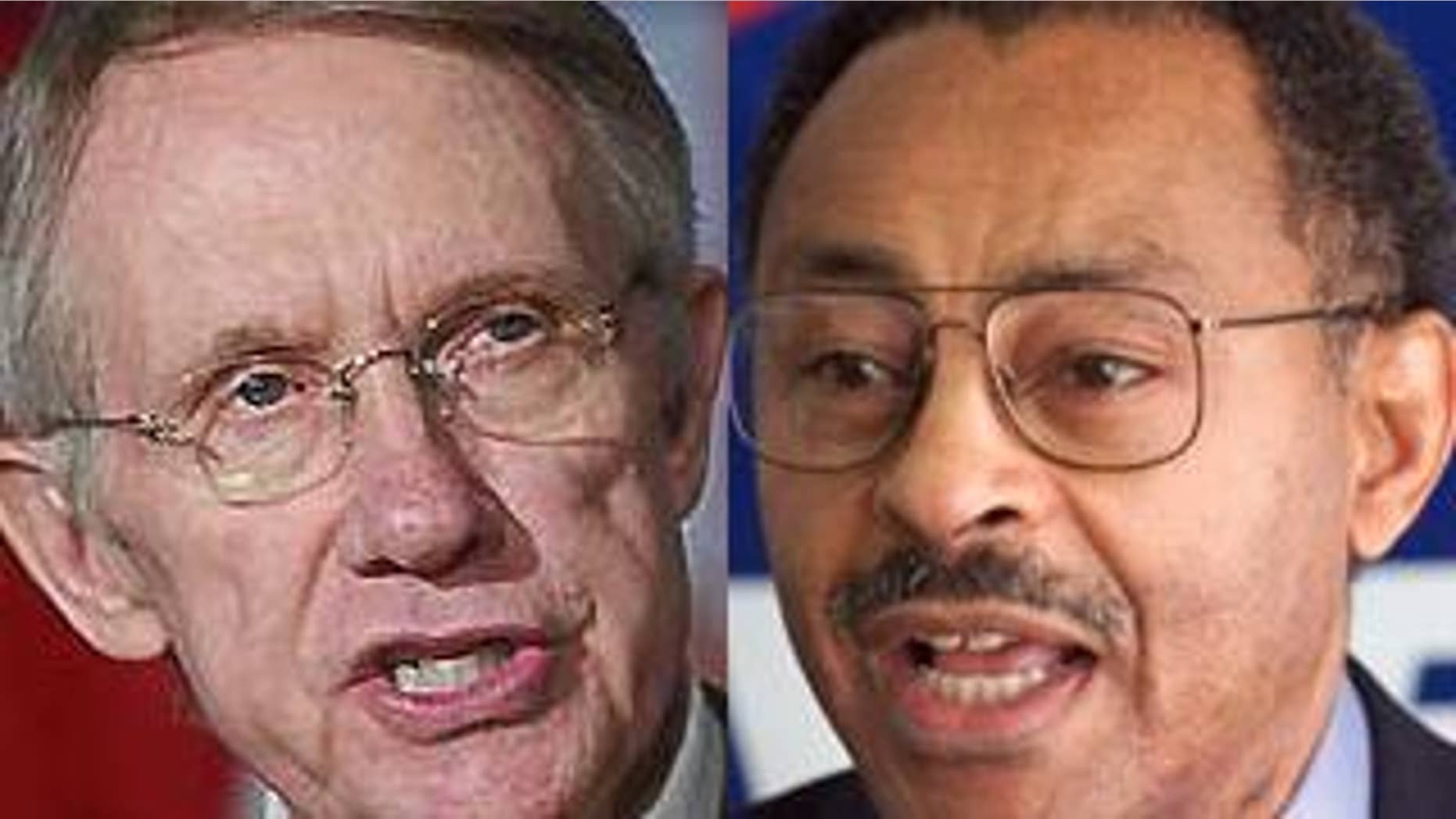 Senate Majority Leader Harry Reid didn't want Rep. Jesse Jackson in the Senate, a point he made clear to Illinois Gov. Rod Blagojevich in a conversation about filling Barack Obama's vacant Senate seat, the Chicago Sun-Times reports.
The Nevada Democrat made one call to Blagojevich on Dec. 3 to discuss the seat vacated by the president-elect, Reid spokesman Jim Manley confirmed. Six days later, authorities arrested Blagojevich for allegedly trying to sell Obama's seat.
Reid accused Blagojevich Saturday of leaking and distorting conversations about the process of filling the vacant seat..
"Gov. Blagojevich's efforts to try to tarnish others while the cloud of suspicion continues to grow over him are shameful, as are his efforts to further betray the public trust and sow seeds of division," said Reid in the prepared statement, which also called for Blagojevich's resignation.
Reid, however, stopped short of explaining his side of the conversation.
"Gov. Blagojevich appears to be trying to distract attention from his daunting legal problems and damaged credibility by distorting information about private phone calls between himself and other public officials," Reid said.
The Sun-Times reported Friday that during their discussion Reid pressured Blagojevich not to appoint Jesse Jackson Jr., Danny Davis or Emil Jones because he feared they'd lose to a GOP opponent in the next election.
Jackson and Davis are both Democratic congressmen from Illinois, and Jones is the Illinois Senate president and Obama's political godfather.
Instead, Reid pressed Blagojevich to appoint either state Veterans Affairs chief Tammy Duckworth or Illinois Attorney General Lisa Madigan, sources told the newspaper.
William Walls of the Committee for a Better Chicago called Reid's opposition to the appointment of Jackson, Davis or Jones, all of whom are black, an act of racism.
"The U.S. Senate is an institution that is primarily white and has been forever and some people are more comfortable with people of their own kind," Walls told FOXNews.com. "Harry Reid seems to be one of those people."
Walls has vowed to rally activists in an effort to politically defeat Illinois Sen. Dick Durbin and Secretary of State Jesse White if they don't support Blagojevich's appointment  for the seat, Roland Burris.
Walls accused Reid of using White, who has refused to sign off on the appointment, to block Burris.
"It looks as though when Blagojevich didn't do what (Reid) asked, he turned to Jesse White," he said. "It looks like he's going to achieve his objectives at all costs."
Sen. John Cornyn, R-TX, said Reid needs to explain his actions.
Reid "took the extraordinary step to lobby against two sitting U.S. congressmen and the state Senate majority leader in Illinois, and instead told Gov. Blagojevich that he supported an appointment for an individual who recently lost a U.S. House election," he said in a written statement, referring to Duckworth.
"The people of Illinois deserve a simple explanation from Sen. Reid," he continued. "Why does he believe these three Illinois officeholders are 'unelectable' to the U.S. Senate?"
Manley couldn't immediately provide other details.But he said such calls are standard procedure, adding that Reid also spoke to the New York and Colorado governors after senators from those states accepted Obama administration jobs, leaving openings.
But Blagojevich spokesman Lucio Guerrero says the call shows Reid has a conflict of interest in vowing not to accept Burris for the seat.
The Associated Press contributed to this report.