Sen. McCain caught playing iPhone poker game during Senate hearing on Syria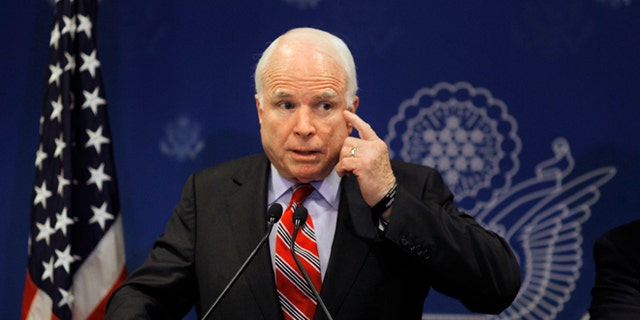 NEWYou can now listen to Fox News articles!
It turns out even top lawmakers can be distracted from their work by an addictive app.
Sen. John McCain, R-Ariz., was caught red-handed by a reporter playing a game on his iPhone as his Senate colleagues and top Obama administration officials discussed a strike on Syria at a Senate Foreign Relations Committee hearing Tuesday.
The Republican senator, who met with the White House Monday to discuss the conflict, admitted he was playing the poker game during the hearing after the Washington Post posted a photo of him doing so.
"Scandal!" McCain tweeted from his personal account. "Caught playing iPhone game at 3+ hour Senate hearing - worst of all I lost!"
McCain and fellow GOP Sen. Lindsey Graham, R-S.C., announced conditional support for Obama's plan on a strike on Syria at a Monday press conference, but said any U.S. military strike would need to have the goal of degrading the Assad regime.