Sen. Marco Rubio: President Obama's Tactics During Shutdown Undermine Immigration Reform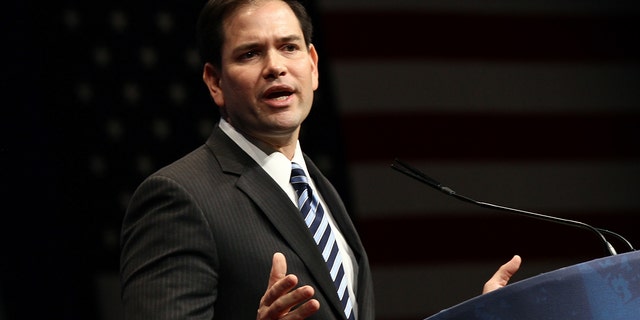 A leading Republican who had reached across the aisle to Democrats for a bipartisan approach to comprehensive immigration reform now is singing a different tune.
Sen. Marco Rubio, the Florida Republican who tried to maintain a positive outlook on the odds of a bill passing this year, said on Sunday that the adversarial negotiations between the Obama administration and House Republicans during the shutdown will hurt the effort to overhaul the immigration system.
Rubio was a central figure in the Senate bipartisan immigration measure that passed in June. That measure, at its core, tightens border security and interior enforcement, but also provides a path to legal status for many of the estimated 11 million undocumented immigrants living in the United States.
House Republicans have vowed not to rubber-stamp the Senate bill, and the most conservative among them say they will not approve a measure that gives a path to legal status, which they call amnesty, to people who are here illegally.
"This notion that they're [House Republicans] going to get in a room and negotiate a deal with the president on immigration is much more difficult to do … because of the way that president has behaved towards his opponents over the last few weeks, as well as the White House and the things that they've said and done," Rubio told host Chris Wallace on Fox News Sunday.
"Immigration reform is a lot harder to achieve today and it was just three weeks ago because of what's happened here," Rubio said. "I think the House deserved the time and space to have their own ideas about how they want to move forward on this. Let's see what they can come up with. They could very well be much better than what the Senate has done so far."
Rubio often issued warnings – albeit indirect – to his Republican colleagues in the House who oppose any measure that allows a path to legal status for undocumented immigrants, saying that to do nothing would be tantamount to amnesty because they would continue to live in the country illegally.
"Immigration reform is something the country needs. I don't think anyone would disagree that we have a broken legal immigration system," he said. "The House deserves the time and space to craft their own solution."
House Republicans have said they prefer to address immigration reform in a piecemeal fashion, through several bills, instead of one overarching measure.
The president was seen as the winner in the standoff between the White House and conservative Republicans who wanted to defund his health care law, a battle that led to a 16-day partial government shutdown. Obama refused to negotiate on the debt ceiling and the budget with the condition of tweaking Obamacare.
After Congress reached an agreement, the president said that now Congress needed to focus on priority issues such as immigration, and he pressed them to pass a measure by the end of the year.
"It's really important for the country. And now is the time to do it," Obama told reporters.