SEIU reportedly spent millions on minimum wage initiative as enrollment drops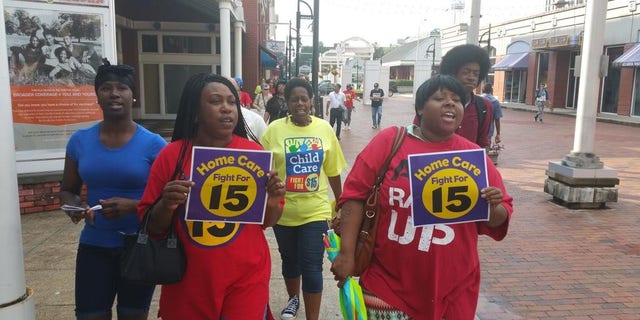 The Service Employees International Union is believed to have spent $20 million on its campaign to have the minimum wage raised to $15 last year, according to a new report.
The report by the Center for Union Facts, a watchdog group, says that the new figure is in addition to the $50 million already spent since 2012. The numbers come from the 2015 financial disclosures released by the SEIU that were was analyzed by the CUF.
What the CUF discovered was that a majority of the $20 million spent for the "Fight for 15" campaign last year went to various organizing committees and that the powerhouse union was likely spending even more, due to staff salaries, legal services and money paid to minimum wage advocacy groups such as the National Employment Law Project (NELP) and the Economic Policy Institute (EcPI).
"While the SEIU has made some headway in its push for a job-killing $15 minimum wage, working Americans appear to be sending a clear message to SEIU big spenders: 'Find a way to create jobs rather than diminishing them.'" CUF Executive Director Richard Berman said in a statement. "The $15 campaign may generate some legislative wins, but even former SEIU boss Andy Stern has acknowledged that this big-spending strategy isn't sustainable."
The $70 million figure since 2012 is close to estimates from November, when it was believed that the SEIU had spent $80 million since 2012—a low cost compared to the potential of revenue it stands to make from unionizing fast food workers.
Unionizing just a third of the nation's estimated 3.6 million fast-food workers could bring in more than $400 million per year in dues to the SEIU, according to one estimate at the time.
In order to woo potential union members, the SEIU financially backed the "Fight for 15" movement, which was presented in some areas as a grassroots initiative for struggling fast food workers and activists.
"The SEIU is sponsoring 'Fight for 15' to do its dirty work," Jared Meyer, a fellow at the Manhattan Institute for Public Policy Research, told FoxNews.com last November.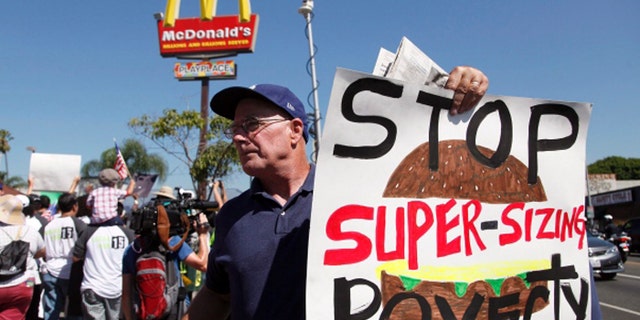 The fast food industry has long been coveted for unionization. Experts say that previous efforts to organize have stumbled in part because of the high-turnover rate and reliance on young and part-time workers who do not see the value in paying union dues.
A vast majority of fast-food workers also do not see their current jobs as a full-time career, in contrast to workers in other industries such as manufacturing or education, say experts.
The SEIU's efforts, however, may be for naught.
As their spending has increased, their numbers have been dwindling, losing 6,000 members in 2015 alone, according to the CUF.
That figure is on top of membership numbers that have consistently dropped for the past five years.
The newest filing shows that the SEIU claimed 1,921,786 union members in 2011, the year prior to the start of the Fight for $15--almost 34,000 more than it had in 2015.