Secret Service officer's book details Clintons' 'crisis of character'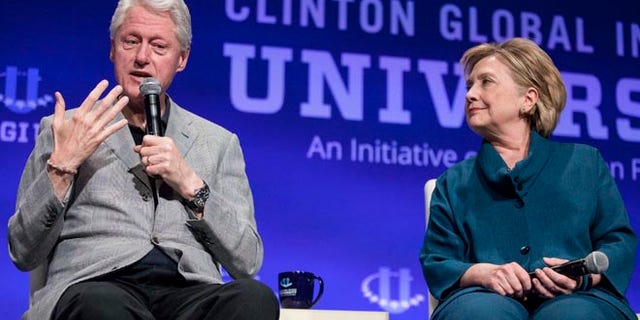 A forthcoming book from a former Secret Service officer assigned to the White House during Bill Clinton's presidency alleges that presumptive 2016 Democratic presidential nominee Hillary Clinton "lacks the integrity and temperament to serve in the office."
The book, "Crisis of Character," is due to be released June 28 – a month before Hillary Clinton is likely to take the stage to accept the Democratic presidential nomination in Philadelphia. Written by ex-Secret Service Officer Gary J. Byrne, who was "posted directly outside President Clinton's Oval Office," the 285-page book describes Hillary Clinton's "appalling leadership style" as being "volcanic, impulsive, enabled by sycophants, and disdainful of the rules set for everyone else."
While most of the book's contents have remained under wraps so far, the Amazon.com preview features large sections from the introduction, first two chapters and afterward. It also shows the title page, featuring a Chapter 11 titled "Wild Bill."
In the introduction, Byrne said he "personally observed" President Clinton's infidelities and was complicit in covering them up.
"I even secretly disposed of sordid physical evidence that might later have been used to convict the president," Byrne wrote.
Byrne recalled an alleged fight between the first couple during the summer of 1995 in Chapter 1, "The Vase." Byrne said a vase was smashed during the loud argument and the next morning President Clinton sported "a shiner, a real, put-a-steak-on-it black eye." Clinton's personal scheduler Nancy Hernreich allegedly told Byrne the eye condition was a result of Clinton's allergy to coffee.
The book is not solely about the Clintons, however.
While writing about his career prior to the Oval Office post, Byrne revealed an incident on May 30, 1983, when he said Russian bombers were spotted 5 miles off the U.S. coast while President Ronald Reagan was holding an economic summit in Williamsburg, Va. Byrne said U.S. fighter jets ended up shooting a warning missile "right past a bomber's nose" and the Soviet bombers turned around.
"The media never heard of it," Byrne wrote.
While books about the Clintons written by supposed insiders are plentiful, Byrne's credibility is bolstered by reporting at the time of the Monica Lewinsky-Bill Clinton sex scandal. A New York Times article from April 1998 reported that Byrne, "a uniformed member of the Secret Service assigned to the White House," told the deputy chief of staff in 1996 about concerns he had regarding Lewinsky's visits to the West Wing of the White House. A CNN article from April 1998 said Byrnes' complaints about Lewinsky ultimately led to her being transferred to the Pentagon.
Byrne said in the introduction to "Crisis" that what he saw in the 1990s "sickened me."
"We were supposed to lay our lives – not our consciences – on the line," he wrote.
Neither Clinton has commented on the book.