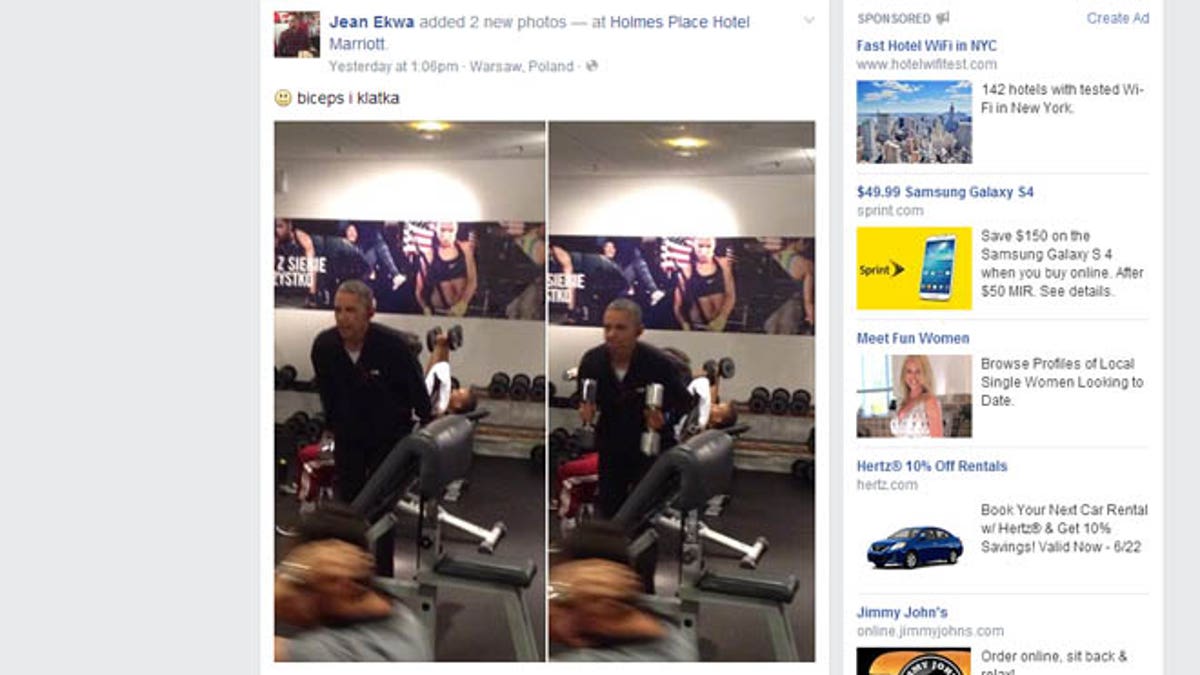 Awkward photos and video of President Obama lifting weights at a hotel gym in Poland surged across the Internet on Wednesday after they were leaked online.
But the Secret Service isn't sweating it.
Though some reports speculated that the images constituted a security breach -- after all, how often does the public see grainy photos of the commander-in-chief pumping iron? -- a Secret Service spokesman said no one was barred from taking pics of the president when he stopped by the gym for his workout.
"Hotel guests were not asked to leave the gym ... nor were they asked to refrain from taking pictures," Secret Service spokesman Ed Donovan said.
According to the Secret Service, all hotel guests were screened prior to entering the hotel -- including any guests working out in the hotel's private gym – and the president was never in harm's way.
Secret Service agents were "in proximity to the president while he was in the gym." The agency said the candid shots that were taken and leaked were no different than if the president had visited a restaurant and other diners took pictures of him.
The photos, which were posted on a Facebook account of someone by the name of Jean Ekwa, show Obama dressed in a dark tracksuit, working out at a 5-star Marriott hotel gym in Warsaw, Poland.
The accompanying video, which clocks in at 1:28, shows the commander-in-chief wearing headphones and doing lunges and other upper-body exercises as he lifts weights.
According to the hotel's website, the upscale gym also has cardiovascular equipment, a swimming pool and a sauna.
The president was in Poland for a face-to-face meeting with Ukraine President-elect Petro Poroshenko and other diplomatic events.