Seattle mayor drops out of mayoral race in wake of sex abuse accusations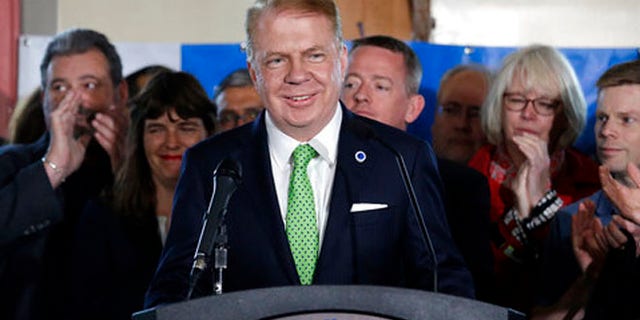 NEWYou can now listen to Fox News articles!
Seattle Mayor Ed Murray dropped his re-election bid Tuesday after four men claimed he sexually abused them when they were teenagers – claims Murray, a high-profile critic of President Trump, has denied.
Murray, a Democrat, had been campaigning for a second term but said he had decided that it was best for the city for him to end his campaign.
"It tears me to pieces to step away but I believe it's in the best interest of this city that I love," Murray said at a press conference Tuesday.
A fourth accuser came forward last week to accuse the 62-year-old of paying him for sex when he was a teenager decades ago. The unnamed accuser said he was introduced to Murray by Delvonn Heckard, who filed a lawsuit last month claiming he was sexually abused by Murray in the 1980s when Heckard was a teenager. Two other men have made similar accusations.
Murray has denied the claims, declaring them to be part of an anti-gay political conspiracy against him. Jeff Reading, Murray's spokesman, labeled the latest claim an "ambush copycat false accusation" in a statement to the Associated Press last week.
Murray was elected in 2013 after serving for 18 years as a state lawmaker. He helped raise Seattle's minimum wage to $15 an hour and was the prime sponsor of Washington states' gay marriage law. He has also been a frequent opponent of Trump, recently announcing Seattle was challenging Trump's order to withhold federal money from so-called "sanctuary cities" – states which refuse to cooperate with federal immigration law.
Murray had been the favorite to win a second term, but after the claims were announced a number of Democrats declared their intention to join the race to run against him.
Murray grew up in working class neighborhoods in and around Seattle and became one of the state's most prominent political figures. He would later serve as campaign manager for Cal Anderson, a Seattle state senator who was the Legislature's first openly gay member.
Murray failed in his bid to win Anderson's seat when Anderson died in 1995, but he was appointed to fill the legislative seat of the state representative who won the state senate campaign.
The Associated Press contributed to this report.